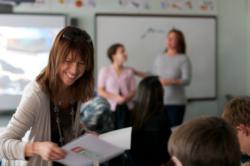 "This program has the potential to change lives."
Beth Sugerman, Head of School, Winston Preparatory School, Norwalk, CT
Westport, CT (PRWEB) February 23, 2012
Smart Kids with Learning Disabilities, Inc. (SKLD) recently sponsored the launch of the i CAN! Program, as a test pilot in the Northeast, in efforts to empower children with learning disabilities. The program highlights strategies that focus on what children can do rather than what they cannot do. Developed by Karen Ayoub of Greenwich, Connecticut with the assistance of SKLD, the program premiered at Winston Preparatory School in Norwalk, Connecticut. Over 80 students and teachers, representing grades six through 12, participated. A majority of students reported the program helped them understand themselves better, and empowered them to feel more confident in pursuing their dreams.
The i CAN! Program, inspired by the HBO film "I Can't Do This But I Can Do That," strongly encourages students, teachers, families and friends to look beyond any label to discover the gifts each child possesses. The HBO film and i CAN! support materials serve as the basis of an interactive discussion among the participants.
Sheryl Knapp, President of Literacy Associates of Norwalk, Connecticut, guided the thought-provoking discussion during the i CAN! Program's debut at the Winston Preparatory School. As a test pilot, the i CAN! Program was successful, especially in its goal to promote greater self-awareness and self-acceptance.
"The i CAN! Program made a valuable and positive impact," reported Beth Sugerman, Head of the Winston Preparatory School, an independent school for students with learning disabilities. "This program has the potential to change lives. One of our students showed a complete turnaround in his level of enthusiasm and commitment to his schoolwork. He now feels his future is his own and that he is not alone."
Karen Ayoub, founder of the i CAN! Program, noted, "I watched my own son, who is dyslexic, struggle daily with issues of self-esteem and self-confidence. I was determined to help him and others like him who do not fit into a regular 'one-size-fits-all' school environment. These kids can learn and can succeed -- they just require alternative methods of teaching and belief in their potential."
During phase one of the program, Karen Ayoub will work with SKLD to present the i CAN! Program to additional schools in Connecticut and New York, before approaching public and private schools in other parts of the country. Jane Ross, Executive Director of SKLD, commented, "The i CAN! Program presents a unique opportunity to help students with learning disabilities better understand themselves and the challenges they face, as well as their tremendous potential."
About Smart Kids with Learning Disabilities, Inc.:
Smart Kids with Learning Disabilities, Inc. is a non-profit organization dedicated to empowering parents of children with learning disabilities (LD) and attention-deficit disorder (ADHD) through providing information, guidance, and support while also educating the public about these children's significant gifts and talents. Henry Winkler, the famed actor, director and producer as well as the author of the Hank Zipzer book series about a boy with learning disabilities and ADHD, serves as the organization's Honorary Chairman.
For more information, please visit http://www.SmartKidswithLD.org.
###