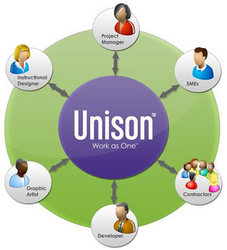 From the moment we began designing the software and choosing our underlying technology, we set out to offer the e-learning community a ground-breaking solution
Lehi, UT (PRWEB) October 6, 2008
Just log in through any browser and create interactive Flash-based courses online -- it's that easy. Do it as an individual, or collaboratively work as teams. That's the promise of the Rapid Intake (http://www.rapidintake.com ) technology that recently won one of the e-learning industry's most prestigious awards.
Rapid Intake's browser-based rapid e-learning course authoring solution, Unison™, has won the 2008 Brandon Hall Gold Award for Best Innovation in Learning Technology. Rapid Intake was recognized during a ceremony and reception held on Thursday, September 25, 2008 in San Jose, Calif., as part of the 2008 Innovations in Learning Conference, held September 24-26.
"From the moment we began designing the software and choosing our underlying technology, we set out to offer the e-learning community a ground-breaking solution," said Garin Hess, CEO. "It's great to have that achievement by our team recognized formally like this."
The Brandon Hall Excellence in Learning Awards are presented annually by Brandon Hall Research, one of the leading research firms in training and development. Now in its fourteenth year, the Awards program showcases exceptional work in the use of learning technology. A total of 246 entries were submitted from several different categories.
"We are so impressed with the quality of this year's winning entries," said Brandon Hall, Ph.D., chairman of the Awards program. "These winners set the standard for what innovative learning looks like today."
Unison is a web-based solution that lets instructional designers and subject matter experts (SMEs) log in through any major browser and collaboratively capture, storyboard, develop, review, test, and publish courses that output in native Flash and XML -- without having to know Flash. Individuals who want to create online courses can also use Unison. Novice users and content owners simply fill out form-based templates to create interactive Flash-based courses, while advanced users create reusable custom templates by accessing the Flash source code (.FLA files). All output is SCORM compliant, rich-media compatible, and works on most PC and Mac browsers.
Unison takes advantage of the connectivity that is inherently part of a browser-based authoring environment by facilitating real-time collaboration among instructional designers, subject matter experts, and other project participants. Project participants can work in the same online courses simultaneously.
"This tool is very compelling. It offers collaboration and instructional development features ... not seen in other similar tools," said one contest judge.
Another significant advance includes Rapid Intake's unique licensing model. Unison encourages collaboration by offering licensing levels that include unlimited users for a flat annual subscription fee.
"Most software licensing models discourage collaboration because every time you want to add another user, you have to pay for another license," says Steve Hancock, President. "We have affordable licensing levels that give our customers unlimited users, so they never have to worry about adding additional people to the project."
One contest judge reported, "The flexible licensing options for this tool would make it accessible to many organizations."
Unison already has a significant following since its launch in February 2008. As of September 25, 2008, Rapid Intake reports that Unison has more than 2000 users who have created 2,138 projects, with numbers increasing daily. Current users include such notable organizations as T-Mobile, Costco, Baker Hughes, PetSmart, Brigham Young University, The College Network, General Physics, and MGMA.
Try out Unison and view the award-winning entry at http://www.rapidintake.com .
About Rapid Intake
Rapid Intake (http://www.rapidintake.com ) is the leader in collaborative eLearning development and review. The Rapid Intake Platform helps organizations learn faster by opening the rapid eLearning development and review process to everyone. Unlike traditional rapid eLearning authoring tools, Rapid Intake's powerful, flexible platform helps instructional designers and content owners collaboratively create Flash-based interactive courses built on proven learning patterns, regardless of their skill levels. eLearning Guild members recently ranked Rapid Intake the most powerful, flexible solution and one of the most serviceable companies. Hundreds of companies rely on Rapid Intake's top-ranked technology to create more interactive and effective courses in less time.
Learn more about Rapid Intake at http://www.rapidintake.com .
Contact:
Jeff Batt
jeffbatt@rapidintake.com
801.766.8003
866.231.5254
###