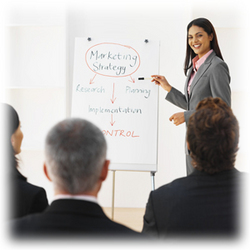 "Our training solutions are truly among the most cost effective ways for delivering quality online training for small to mid-sized businesses and non-profit organizations."
Assonet, MA (PRWEB) September 2, 2010
Today CNP Integrations announced September as "Training Month" with immediate availability of new SCORM compliant Learning Management Solutions. CNP Supports and develops web based tools for eLearning that leverage open source technologies to reduce costs and increase return on investment. Content Management Systems powered by Joomla combined with, effective curriculum design and rich media training development can allow Small Businesses and Non-profit organizations access to affordable training solutions. CNP Integrations is now offering a variety of production and curriculum design services that can provide advanced, SCORM compliant training modules and training resource libraries delivered in full featured Learning Management Systems.
CNP Integrations has been providing training, service and support for open source technologies since its inception in 2006. With a focus on supporting the Joomla! Content Management Systems and integrations with the info@hand Customer Relationship Business Management systems (CRBM) and integrated Learning Management Systems (LMS). CNP has significant expertise and now presents a robust catalog of tools for supporting virtually any type of business on the web. With a renewed focus on training and building value for customers CNP Integrations has developed a catalog of Joomla CMS training courses on their new Joomla! centric portal http://www.joomladesignservices.com. This Joomla portal has many features including integration of a SCORM Compliant Learning Management System (LMS) with a growing library of training modules. The new modules are designed to help clients gain skills to master the Joomla CMS and achieve greater sustainability for use and maintenance of their web portal systems. CNP Integrations also offers Customer Relationship Management Training on another Learning management System of their design with the http://www.learningcrm.com portal. Here you will find yet another example of cost effective learning management with a Joomla CMS platform. Watch this month on CNP's portal blogs for interesting articles and comparisons of LMS with Joomla and Moodle.
CNP possesses technical expertise and employs some of the brightest developers in the industry for open source technology platforms. CNP now has a full service training resource department that is dedicated to delivering a wide range of educational consulting and curriculum development. All combined with advanced multimedia skills for producing engaging SCORM compliant training modules and interactive multi-media.
"Our training solutions are truly among the most cost effective ways for delivering quality online training for small to mid-sized businesses and non-profit organizations with eLearning programs. The learning management solutions we support have rich features that are robust enough for virtually any school, small college, company training and professional development program. And because it is built on open source we can extend it to support any new feature or integrate it with other systems." Says Christopher Nielsen (CNP Integrations CEO). Not all training is required to be SCORM compliant but building your content with this practice allows you to reuse content and modules on any number of LMS's.
To help introduce folks to many of the new services and support capabilities CNP Integrations is declaring September as "training month" where they will offer $500 in FREE service certificates to qualifying businesses on training support services in addition to free consulting for training needs assessments. Details can be found at http://joomlatraining.cnpintegrations.com.
Creative Networks Protocol, DBA CNP Integrations is an industry leader for Joomla! Based business solutions by providing technology configuration, development and programming services, technical support and comprehensive training for Small and Medium businesses and non-profit organizations. CNP Integrations offers a wide range of products and services designed to allow organizations to get the best value out of their technology investment.
Contact for more information:
Chris Nielsen, 1-508-644-1553 Ext. 300
###