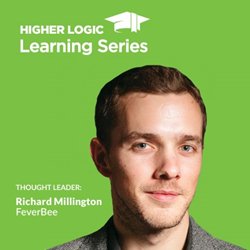 Washington, D.C. (PRWEB) March 17, 2016
Higher Logic will feature community thought leader and founder of Feverbee, Richard Millington, for today's Learning Series webinar at 2 p.m. ET, to discuss "Automation and Motivation to Support Online Communities."
During the webinar, Richard will present key tactics for tapping into what motivates community members long term, and how to use automation rules and campaigns to increase intrinsic motivation. He will outline how successful community managers can leverage competence, autonomy and social relatedness for members, as well as streamline tedious tasks and granular member monitoring to bump engagement and retention.
What: Higher Logic Learning Series: Automation and Motivation to Support Online Communities
When: Thursday, March 17, 2016, 2 p.m. ET
Registration: Register for the online webinar here.
Who: Feverbee Founder Richard Millington, and Higher Logic's Creative Director Lauren Wolfe and Community Manager Calista Rollogas
In addition, Higher Logic will brief attendees on several client case studies outlining success with automation rules in online communities, including strategies on implementing automated campaigns and top performance metrics.
About Feverbee
Our mission is to ensure you build a successful community. We help organizations harness powerful psychology to transform audiences, employees, and customers into united, supportive groups. In the past 6 years, we've helped almost two hundred organizations like Google, Wikipedia, The World Bank, Autodesk, EMC, and Oracle develop communities. We're proud to be considered among the leading community consultancies in the world. We combine a proven track record of success, a clear commitment to our client's success, with a reputation for pushing our field ever closer to the thrilling edge of social science. Learn more at http://www.feverbee.com.
About Higher Logic
Higher Logic is an industry leader in cloud-based community platforms, with over 25 million engaged members in more than 200,000 communities. Organizations worldwide use Higher Logic to bring like-minded people all together, by giving their community a home where they can meet, share ideas, answer questions and stay connected. Learn more at http://www.higherlogic.com