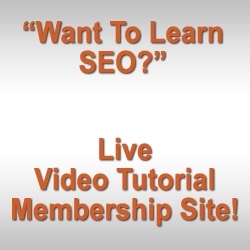 Learning SEO shouldn't have to be so hard, we take all our knowledge and research and give it exclusively to our members with easy step by step video tutorials. Who wouldn't want to learn that way
Ogden, UT (PRWEB) January 26, 2008
SEO Mentors Garrett Pierson and Jordan Kasteler are announcing the launch of there new Online SEO Video Training Site to Learn SEO and Social Marketing. The site launches February 19, 2008.
The creation of LearnSEOLive.com builds on the success of giving people the right SEO Tools to learn and by following Kasteler and Piersons' Search Engine Optimization and Social Marketing tips and techniques. Because LearnSEOLive.com provides members with the latest in SEO coaching and online expertise, including best practices for receiving top search engine rankings, a new SEO Membership Site was inevitable.
"Learning SEO shouldn't have to be so hard, we take all our knowledge and research and give it exclusively to our members with easy step by step video tutorials. Who wouldn't want to learn that way," says Pierson.
"There is no other source of information out there that actually teaches you step by step how to actually conduct SEO, not just the rules and fundamentals of what SEO is, for such a low price," added Kasteler.
Although the SEO Training membership site will not open until the 18th of February there is an exclusive offer now at LearnSEOLive.com where you can get a insane discount of only $19/month (regular $37/month).
Here are some of the things that you will learn:
"Keyword/Phrase Research" - Learn how to drill down and find the Keywords and Phrases that get traffic and convert.
How to apply professional Search Engine Optimization to take advantage of organic search engine traffic - and get results fast!
Learn how to build your website the write way and how to optimize your existing Websites - with visual training and tutorials.
How to Use Social Web 2.0 Sites to drive insane targeted traffic to your websites - Sites like Digg, StumbleUpon, Hubpages, and Youtube.
To find out more information on how to Learn Search Engine Optimization just visit LearnSEOLive.com
###