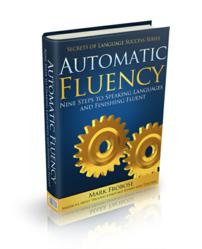 Automatic Fluency makes your future fluency inevitable because it's built into your inescapable daily routine.
(Vocus/PRWEB) April 19, 2011
Inevitable fluency in other languages? How can that be? Bestselling language author and expert Mark Frobose says that his new book 'Automatic Fluency' is probably the best guide on language learning he's ever written.
"The reason I rate "Automatic Fluency" so highly is because, unlike my other works, "Automatic Fluency" makes the fluency process absolutely "inevitable" instead of just "unlikely."
"It's easier than you think," explains Frobose. "It all comes down to automating the Automatic Fluency during your down times to guarantee you'll practice, no matter what."
Frobose, who himself is fluent in seven languages, goes on to say that "Automatic Fluency makes your future fluency inevitable because it's literally built into your inescapable daily routine."
"You must also follow my '10 Commandments of Language Learning' and my 'Automatic Fluency Success Formula' as well as adhere to the 'Nine Easy Steps to Becoming Fluent,'" adds Frobose.
Automatic Fluency includes tips on creating a unique and tailor made language program for pennies on the dollar, making language fluency vastly more certain by literally programming the entire process directly into one's unavoidable daily routine. Finding 'hidden time' for language learning that is otherwise wasted, and learning to speak a language fluently and practically for free without having to sacrifice any additional time or money to do it.
"I have come to understand during my lifetime that language learning can be a highly uncertain activity with an even more uncertain outcome. Simply put, most wish for, many attempt, but few ever even come close to their goal of fluency mostly because they leave it to chance.
"The truth is that it is that you can greatly increase the possibility of becoming fluent in many languages during the course of your lifetime by first creating your own language program and then by automating it into your daily routine."
All the learner is required to do is follow the automatic program until the desired results are achieved. After that, the results will literally speak for themselves.
"Automatic Fluency" is now available online at http://frobose.com/?page_id=124 and at frobose.com.
###