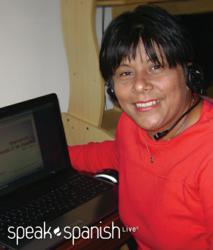 "This is the first of what we hope will be many programs that benefit members of the educational community, allowing them to use the SSL program to increase Spanish fluency"
Orlando, FL (PRWEB) August 08, 2012
SpeakSpanishLive (SSL), delivering innovative one-on-one language immersion via live videoconferencing with experienced instructors in Guatemala, is now offering students, alumni and staff of Rollins College, Winter Park, FL, a $50 discount on lesson packages. SSL provides people who want to learn or improve their Spanish with personalized 60-minute classes, combining conversation, reading, writing and comprehension. SSL also benefits its instructors — primarily women — providing them with needed income to support their families. Guatemala is one of the poorest countries in Central America.
"This is the first of what we hope will be many programs that benefit members of the educational community, allowing them to use the SSL program to increase Spanish fluency, " said SSL founder Cathy Mathwig.
Mathwig wanted to learn Spanish as a second language, so she quit her job, went to Antigua, Guatemala and moved in with Rosalinda Rosales, who now teachers for SSL. "I studied four hours a day, volunteered in the afternoon, and studied at night. When I returned home, I spoke fluently," she explained. "But I wanted to study with Rosalinda from the States." An IT professional, Mathwig began researching virtual classrooms. Within three months, she had created a prototype with a simple website. She used Rosalinda's teaching approach to develop the SSL curriculum. The SSL site was updated and re-launched in October 2011, and the registration system has been streamlined as of July 2012.
Mathwig also couldn't get the people of Guatemala out of her mind. "It became my mission to help empower and provide the city's language instructors — most of whom are women — with additional income," she explained, "while making their incredible skills available to people around the world who want to learn Spanish with a native speaker without having to travel abroad."
Since its inception, SSL teachers — all of whom have more than 20 years experience — have taught people from 18 US states, the United Kingdom and China. SSL alumni include secondary and college level students, business professionals, travelers learning or brushing up for a trip, and those who just want to speak the language.
SpeakSpanishLive teaches the inner workings and mechanics of the Spanish language, providing a strong foundation that ensures that the student is speaking, gaining vocabulary, composing increasingly complex sentences, and improving comprehension. The one-on-one live video conferenced classes foster a strong relationship between the learner and teacher.
SSL also offers a one- or two-week immersion program with students living with a family in Antigua, usually the home of their instructor. One-on-one classes take place in the morning, while afternoons can be spent volunteering with SSL-supported charities or experiencing the cultural and natural beauty of Antigua.
To take SSL classes, students need:
** A high-speed Internet connection
**Adobe Flash Player (7 or higher)
**An audio headset
**A webcam (optional, but preferred)
Classes are available Mondays – Fridays (1 pm – 8 pm CST) and Saturdays (7 am – 8 – pm CST). Each instructor has a webcam so students can see and hear her during the session. Learning levels include beginner, intermediate 1, intermediate 2 and advanced. A proficiency test is provided to those who have studied before but are not sure of their skill level.
The program offers a free trial class. Packages include:
**10 one-hour sessions
**20 one-hour sessions (including two free sessions)
**40 one-hour sessions (including six free sessions)
** 10 one-hour "fast track" sessions for those planning a trip
**10 one-hour tutoring sessions for secondary or college students
For more information on a SSL educational partnership, contact: info(at)speakspanishlive(dot)com.
SpeakSpanishLive (SSL) offers a unique method of learning Spanish through streaming video/audio conferencing with native Spanish-speaking instructors in Guatemala. From the comfort of their homes, students learn or improve their Spanish, receiving personalized 60-minute classes combining conversation, reading, writing and comprehension. They can also take immersion classes in Antigua, Guatemala, often living in the homes of their teachers.
Cathy Mathwig is the creator of SpeakSpanishLive (SSL) and principal at Transition Consulting, LLC in Orlando, FL. She has consulted for numerous firms and is currently working as a program manager with jetBlue Airways.