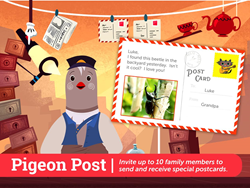 The New York Times calls Learn with Homer "..the most comprehensive app for teaching reading."
Brooklyn, NY (PRWEB) April 21, 2014
Learn with Homer the award-winning global literacy platform for young children, announced today that it has been named a finalist in the "Modern Language" category for the Return on Education (ROE) Innovation Awards presented by Arizona State University, GSV Advisors, and the Clayton Christensen Institute for Disruptive Innovation. Other finalists for this award include Duolingo, Coursera, Dreambox, Knewton, Khan Academy, and Renaissance Learning.
The prestigious ROE Innovation Awards recognize organizations that exemplify high impact and Return on Education measured by their ability to deliver one or more of the following outcomes:
-Significantly increase access to education
-Greatly reduce the cost for learners and/or learning institutions
-Dramatically improve learning outcomes
-Provide substantial leverage to learning leaders (teachers, professors)
-Make a sustainable and scaled impact
Learn with Homer is a design-driven media and technology company on the path to redefining literacy in the digital age. Their studio of world-class artists, developers, and storytellers work in collaboration with leading education experts to craft a highly engaging and immersive early learning experience that teach children ages 2-8 how to read and build knowledge.
Learn with Homer champions a broader definition of literacy for children living in the global knowledge economy. Whether a child is a native speaker or learning English as a second language, our product platform supports literacy in its many forms: visual, digital, cultural and scientific.
Learn with Homer is transforming the $12 billion supplemental learning market and $35 billion English as a second language market by offering families home access to the best teaching in the world. Over 1 billion children globally need to learn English every year.
In just six months since launch, over 23 million lessons have been completed by over 1 million children in 160 countries. Every 3 seconds a child is creating user-generated content somewhere in the world on Learn with Homer's literacy platform.
Homer was founded in 2012 by well-known education reformer, Senior Advisor to the Common Core Literacy standards, and entrepreneur, Stephanie Dua. The company is based in Brooklyn, NY.