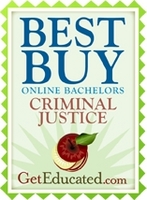 Fort Hays State College Online (Kansas) ranked #2 overall -- #1 as the least expensive online college for students nationwide -- for its bachelor of science in justice at a cost of about $21,000 for online students regardless of their state of residency
Essex Junction, VT (PRWEB) January 14, 2010
GetEducated.com, LLC, has released its affordability rankings and reviews of online universities that offer bachelor degrees in criminal justice, law, and legal studies career areas. The online college rankings are based on an objective survey of 33 regionally accredited universities that offer distance learning bachelor degrees. College degree and career majors covered by the online education survey included criminal justice, police studies, law, paralegal, homeland security, forensic science, computer and internet security and military intelligence and security.
Least Expensive Online University
Western Carolina University ranks #1 on GetEducated.com's Best Buy list for its distance bachelor's of science in criminal justice. Online learners who are North Carolina residents pay a low rate of about $10,000 for their distance degree. Out-of-state students will pay considerably more at $41,014.
Fort Hays State College Online (Kansas) ranked #2 overall -- #1 as the least expensive online college for students nationwide -- for its bachelor of science in justice at a cost of about $21,000 for online students regardless of their state of residency.
Northwestern State University (Louisiana) ranked #3 for its bachelor's in criminal justice at just over $24,000 for online students regardless of their state of residency.
By comparison, the average cost for a distance learning bachelor's in the justice area came in at just above $42,800.
Most Expensive Online University
The most expensive distance learning bachelor degrees for justice and police professionals came from private colleges and included:
University of Phoenix Online – Arizona ($63,600)
South University Online – Georgia ($64,980)
University of Great Falls - Montana ($67,560)
Duquesne University – Pennsylvania ($76,560)
A review list of GetEducated.com's Top Ranked Best Buys Online Bachelors: Law, Legal and Justice Studies can be viewed online.
Online students can compare all their accredited online college options by cost, admission standards, accreditation level, and career major areas at GetEducated.com.
About: GetEducated.com is a consumer group that provides objective reviews of accredited online universities and publishes the data free online for comparative use by potential online students. Educators and employers use the college directory to review, rank, rate, and compare accredited online university options. The site also provides the web's only verified student reviews of online universities.
Contact: Lorna Collier, Information Services, GetEducated.com, LLC, Essex Junction, VT. 05456. 802-899-4866. Website: http://www.geteducated.com
###