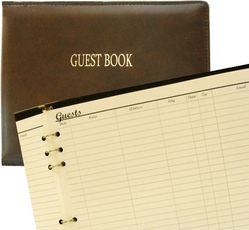 We sell everything from handmade, hand-detailed leather guest books with an old world look and feel, exquisite Italian Firenze paper covers made in Florence, to the simplest of covers made of faux leather
Summerland, CA (PRWEB) May 18, 2010
GuestBooks2go.com announces its grand opening, offering the Web's largest selection of guest books for all occasions. A spin-off of innkeeperscollection.com, which has provided guest books, guest directories, refillable leather journals and more for 13 years, the new GuestBooks2go.com store specializes in selling only guest books.
Owner Verlinda Richardson describes what makes GuestBooks2go.com unique, "This is a one-stop shop where a customer can purchase beautiful leather 'bound' or 'refillable' style books, whether that's a leather custom guest book made with fine Italian hand-rubbed leather or a British calf skin bound book. We carry guest books made with Firenze paper or covered in linen and offer guest books custom made to our specifications, with informational columns or books with straight, lined or unlined pages and with room for the information our customers require."
Available in a range of formats and priced to accommodate the discerning customer, registration books at GuestBooks2go.com are available for individuals, corporate offices, museums, presidential libraries, hotels, bed & breakfast properties, and rental vacation homes. Books can feature lined or plain pages for any writing the guest prefers, from poetry to a custom drawing or guest books with date, name, address, phone, and email or comments.
"We sell everything from handmade, hand-detailed leather guest books with an old world look and feel, exquisite Italian Firenze paper covers made in Florence, to the simplest of covers made of faux leather," says Richardson.
Customers shopping at GuestBooks2go.com can easily view and purchase by category, whether they are wedding consultants looking for wedding guest books, vacation rental owners seeking beach guest books, or individuals looking for heirloom-quality baby shower registration books. Products are also categorized by materials, from leather custom guest book options to wood, linen or Old World style. Designer-artwork-covered guest books are also sold on the site.
Secure shopping, clear images, and information about personalization and logo options can be found at the GuestBooks2go.com website.
About GuestBooks2Go.com:
Owner of InnkeepersCollection.com for 13 years and a one-time innkeeper, Verlinda Richardson has filled a niche in the inn-keeping industry with guest books, guest directories, and room writing journals for inns and resorts. Guestbooks2Go was started when Verlinda had problems locating guest books that included specific information requested by her customers. She also noted they desired refillable guest books, where they could keep the same binder style book but just add refill pages. She found no resources on the Web offering these and decided to manufacture her own. This new spin-off, featuring wedding guest books, anniversary guest books, and other special occasion books, provides customers the finer books for their guests to sign, with corporate quality leather guest books and more.
###