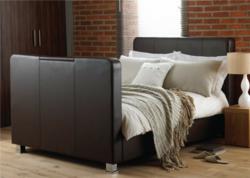 Contemporary and comfortable they are perfect for those who like quality and relaxing in bed watching TV
Fife, UK (PRWEB) June 27, 2011
LeatherBedFrame.org.uk is proving to the furniture world that they're still at the top of their game, with the unveiling of a new range of leather beds. After extensive research into their range of beds and customer feedback they are proud to offer their customers a brand new selection of leather TV beds with prices starting at just £349.
Customer Service Manager James Thompson describes the new range as "an exciting and modern range that will be a wonderful addition to any bedroom. Contemporary and comfortable they are perfect for those who like quality and relaxing in bed watching TV."
Entertainment centers in the living room are great for holding the TV and other electronics, but they aren't the best choice for the bedroom. Many bedrooms are plagued with problems when it comes to watching television. Visibility is an issue while lying in bed and placing the set on taller furniture can create an unattractive and unwanted focal point. TV beds solve this problem cleanly by creating a storage spot for the TV in the footboard of the bed. Visibility will always be perfect, an additional piece of furniture is not necessary and the TV can be stored out of sight when not in use.
Leather TV beds are attractive in their own right. Their unique feature of also housing your television for catching some late-night shows makes them even more attractive. Their padded headboards are inviting and comfortable while the padded footboards appear to be nothing more than an extension of the bed. Open areas under the bed are available for additional storage and the necessary electronic components. The television itself is hidden away in a compartment in the footboard that will rise up when needed.
Choose from different colors and styles to suite your room and personal taste. Many TV beds are slightly reminiscent of sleigh beds with their higher footboards and headboards. However, the flares that are typical of sleigh beds give way to clean, straight lines that are conducive to hiding a television. Different colours include various shades of brown as well as pure white and off-white. The headboards can be upholstered with solid lines or crisp buttons that are reminiscent of classic furniture pieces. Whichever style of bed you choose; if you enjoy watching TV in bed you will love having a leather TV bed.
According to James, "By taking advantage of ecommerce, online marketing and social networking while still valuing the traditions of quality and service, we have created an online presence that makes shopping for and choosing a leather bed cheaper and more convenient than ever."
http://LeatherBedFrame.org.uk was launched in 2010 and has quickly become a leading bed retailer specialising in leather beds. They have over 100 styles of leather bed available in a variety of colours and sizes. Prices begin at just £139 and all orders over £500 qualify for free delivery.
# # #