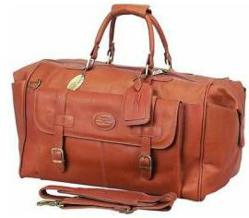 I appreciated the personal service I received at this on-line leather shop. My husband's briefcase was very handsome, and more than we hoped for, will do business again!
MURPHY, TX (PRWEB) January 21, 2013
Find a great winter sale on briefcases, leather bags and travel accessories at LeatherGiftItems.com through February 28, 2013. The sale is 10% off the low price, which equates to 40% off M.S.R.P.
There are luxury fine leather bags and accessories on sale in all price points, starting from $24.30. Included are high end briefcases, lawyer bags, wheeled laptop cases, portfolios, backpacks, notepads, and custom ink pens.
This is a cool boutique store, with cool items, priced very competitively. More information on the company owned by Gift Items Etc., can be found at their LeatherGiftItems Facebook site.
The company is internet-based only. They offer complimentary shipping on orders greater than $100, and a complimentary return label on all orders inside the United States. They also ship to Canada. On select lines, they offer complimentary monograms (a $15 to $25 value) if the item costs a minimum of $125.
A few examples of the leather bags on sale are the ClaireChase Executive Duffel Bag, selling for $279, normally $629. This travel bag has end zip pockets, compartments all around, heavy duty hardware, ID tag, and satiny interior. The bag works very well for travel or the gym. The duffel is featured in the top photo, and is available with a complimentary monogram.
Although price match is not guaranteed, the company invites customers to call, as they will try to match a competitor price, on-line. Be prepared to provide the URL containing a better price. Read more information regarding the leather company at their LeatherGiftItems Manta page.
There is a wide variety of men's bags and toiletry items to choose from. The company specializes in bags for men, although they have a good offering for women, as well. To learn more about their products, review the LeatherGiftItems Youtube site.
The company was founded in 2005 and can be found at LeatherGiftItems.com, or 877-494-2548. Orders can be placed on-line or by phone and most major credit cards are accepted.