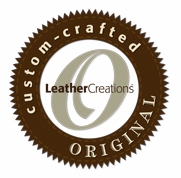 Leather Creations has made many decisions along the way that always sided on quality
Atlanta, GA (PRWEB) February 15, 2012
Leather Creations has decided to stay in Atlanta and build its custom leather furniture domestically. When the lease for Leather Creations manufacturing facility ended, Leather Creations had to decide whether to go off shore like all other competitors or stay committed to the American workforce and the Atlanta area. Leather Creations takes great pride in the fact that it has manufactured 100% of its leather furniture including traditional leather furniture, contemporary leather furniture, and deep seating furniture in Atlanta for the last 18 years. Now, the company has committed to staying in Atlanta for the foreseeable future.
When Scott Lobel, CEO of Leather Creations, was asked why the company decided to stay in the US his response reflected the company's values and quality expectations. "We looked at moving to China very seriously as the labor rates are much lower over there still. However one thing we were not willing to give up is quality control. For 18 years we have been manufacturing 100% of our product right here in Atlanta and so we wanted to be completely certain that we would not affect the quality of our leather furniture. When we looked at the cost savings and what that would mean to the consumer, we decided very quickly that we were not willing to allow other manufacturers to produce our leather furniture" explained Scott. Expanding on the company's core values Scott made it very clear what sets his company apart. "You know we have always done right by our customers, we have always given the best warranty in the business and we basically have very little service because of our attention to detail. Moving offshore would have meant that or customers were not going to get the same quality and they would have had more challenges that are typical to the furniture industry. We believe when we say it's the best, that it should be so the decision was quite easy actually. Plus, we are a family, most of my employees have been with us since day one and I was not about to say thanks for everything and now, we are going to China. I need to sleep at night so again the decision became easier and easier as we went through the pros and cons".
Not every company will rest on its laurels. Leather Creations started in 1994 with a concept that was different than the rest of their leather furniture manufacturing competitors. Build it and sell it directly to the consumer. This resulted in more value because there was no middle man marking up the goods. The result is that Leather Creations has made many decisions along the way that always sided on quality. "Every day, I am approached by vendors that can sell me cheaper parts, cheaper leathers and cheaper woods, and I always tell them that unless they can guarantee me that the new product will outperform the old product then I am not interested" said Scott. In the last 15 years the company has only changed a handful of products and most to them have been accessories. They haven't changed any structural components. The company is focusing on what has worked for 18 years, through the good and through the bad. Leather Creations continues to defy the odds staying U.S. based mostly because of their quality reputation. The quality of their leather sofas, leather chairs, leather sectionals and reclining furniture is second to none. Through their showroom locations they offer an extensive line of leather furniture in Atlanta and a great selection of leather furniture in Chicago. They are not going to change this formula now and will stay committed to American made furniture for the foreseeable future, but most likely forever based on the company's core values. There is still a furniture company that makes 100% of its leather furniture right here in the U.S.A and in Atlanta for that matter.
Optimization services provided by Vayu Media the Atlanta seo company who is proud to support the web strategy of Leather Creations, a company that is committed to our community and region.
###