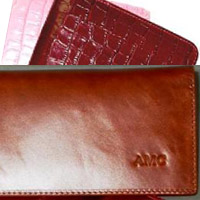 I had great service, fast shipping, and received a fine leather checkbook cover at a great price, will definitely shop here again!
Murphy, TX (PRWEB) October 29, 2012
Looking for fine leather gifts for Christmas at a reasonable price? Gemelli International by LeatherGiftItems offers fine under $50! The entire Gemelli line ships free, via USPS.
The internet company, owned by Gift Items Etc., sells briefcases and small travel goods, and has recently added the Gemelli line of goods to offer buyers fine gifts at lower prices this season. An example of these fine goods are the Crocco Italian leather checkbook cover, with same leather inside and out, selling for $35.99. The same checkbook holder is available in Ricco Italian leather and has a monogram option. Some additional gifts with excellent price point are the men's small wallet, which sells for $32.99 and the women's mini zip case with key chain, for $23.99. This Gemelli line features small gifts that work perfectly for a stocking stuffer.
LeatherGiftItems.com also features leather gifts under $100, which include unique wallets, toiletry bags, wine totes, men's bags, notepads, leather hats, etc.
The on-line store offers free shipping on items greater than $100, and the Gemelli line ships free via USPS. Returns are available with the company's free return label, within 30 days of purchase, as standard policy. However, the Christmas policy has been extended to accept returns prior to January 15, 2013, when purchased after November 1, 2012.
As a sign of the times, the Company plans to continue adding more price-conscious lines throughout 2013. Check out the Company on Facebook.com/Leathergifts, and review the Gemelli International line at LeatherGiftItems.com/GEMELLI-INTERNATIONAL-44-1.html, for top value leather goods, at a fair price.