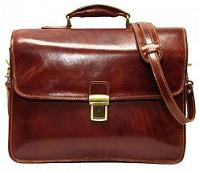 With this new bag I can store both files and my laptop in the same bag. This has made my daily commute simpler not having to juggle two bags. All of this in addition to the excellent quality of the bag. Highly recommend this.
Murphy, TX (PRWEB) October 09, 2012
LeatherGiftItems.com has broadened their line of Italian leather briefcases to include more Floto and Dr. Koffer Duffel bags which are manufactured in Italy. These briefcases and duffels are targeted to professionals and traveling individuals.
Many of these leather bags are very high end, but reduced significantly. The Floto line is a very popular line of briefcases and feature traditional styles, as well as trendy European flair. The details of the manufacturing of these bags is exquisite and the bags would most likely last for many years. The Dr. Koffer line of leather duffel bags features an "old world" style.
The Korchmar line, notable for their lawyer briefcases, has begun to offer more lightweight versions of their bags made in the USA, which LeatherGiftItems.com has introduced on their sister retail site at: http://www.laptopbriefcasebag.com/korchmar-20-1.html.
The company Gift Items Etc. (dba LeatherGiftItems.com) markets their merchandise in helpful category break downs, such as price point, color, and styles. An example of ease of search would be Brown leather briefcase, men's briefcases, women's briefcases, men's duffel bags, women's duffel bags, etc.
LeatherGiftItems.com offers wheeled laptop bags that protect the laptop, but also convert to a full organizational briefcase, while traveling. These models have accordion fold-out panels, organizing sections for media and business tools, as well. The leather versions, of course, you will not check at the airport, rather reserve carry-on status for these bags. Many travelers will use a nylon version (available on the sister site) for every day travel, remove the laptop and place that in their leather briefcase prior to boarding.
LeatherGiftItems.com sells these leather briefcases and bags up to 45% off suggested retail. The company offers free shipping on products greater than $100, and provides a free return label for returns.
For more information, log on to http://www.LeatherGiftItems.com or contact Sales at 877-494-2548; sales(at)LeatherGiftItems(dot)com.