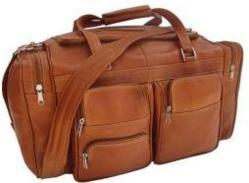 I ordered this item for my nephew and was pleasantly surprised at the high quality of the leather and workmanship. I had the bag monogrammed and it turned out beautifully. I would not hesitate to order again from this company ...
Murphy, TX (PRWEB) August 31, 2012
LeatherGiftItems.com is featuring a Labor Day sale on leather duffel bags through 9/4/12 at 10% off the lowest mark down prices.
There are leather travel bags in Colombian leather, Italian calf leather, vintage leather and full-grain leather. The bags are broken down into dollar categories, for ease of shopping for the budget consideration. There are wheeled bags, garment bags, hard side luggage, and small leather pieces to make traveling easier.
The online company offers customer product reviews, which is helpful when purchasing leather gifts. LeatherGiftItems.com offers secure checkout and most methods for payment, including PayPal, Google Checkout, and four major credit cards. The company's featured products can be found at the LeatherGiftItems Yahoo Site.
This top-notch, on-line luggage store offers its customers free ground shipping, free monograms on selected products, and a free return label on items valued more than $100. Corporate orders can be placed by telephone, call 877-494-2548 for a quote.
LeatherGiftItems.com luggage store offers many duffel bags in styles, i.e. club bags, gym bags, carry-on cabin bags, wheeled duffel bags, and styles for men and women. These overnight bags are backed by the store's 30-day return policy and five-year to lifetime manufacturer warranties. Check out the company's LeatherGiftItems Facebook site for featured products and sales.
Take advantage of the sale while colors and supplies last. The Labor Day sale ends on 9/4/2012. More information about the company, articles and product information can be found on the company blog and the About Us page of the site. The company provides customer service 5 days a week, from 8:00 a.m. to 5:00 p.m. Central Time, five days per week, with light staff on the weekends. Orders can be placed online prior to 2:00 p.m. and expect same day shipment. Monogramming, may delay your order by one day.