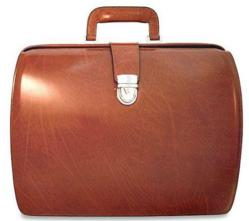 I am a Soldier deployed to Afghanistan, I placed my order and the gift was waiting for Girlfriend at home the day she dropped me off at base. She was thrilled. Although I made her wait till her B-Day, which her Mother wrapped it for me ...
Murphy, TX (PRWEB) August 21, 2012
LeatherGiftItems.com sells top brands of men's leather briefcases up to 55% off MSRP. They also sell travel bags and carry-all bags for men, in lines such as Korchmar, ClaireChase, Jack Georges, Spikes & Sparrow, Le Donne Leather, Scully Leather, Tony Perotti, etc.
The on-line luggage store has a large selection of lawyer briefcases, women's leather briefcases, and laptop bags in a varied selection of carriage styles, i.e. tote style, underarm briefs, cross-shoulder briefcases and carryall men's bag styles, attaché cases and wheeled laptop bags.
http://www.LeatherGiftItems.com. offers a unique selection of leather types in briefcases, i.e. vintage leather, saddle leather, cross-grain, vegetable tanned, cowhide, calfskin, Italian leather, USA Steer leather, Buffalo and Deer leather. The company has an invitation to customers to review their products on each product page, which is always helpful to new buyers. You can also refer to the company's featured product photos at their LeatherGiftItems Yahoo site.
This top-notch, on-line luggage store offers its customers free ground shipping, free monograms on selected products, and a free return label on items valued more than $100. Corporate orders are available by telephone, call 877-494-2548 for a quote.
http://www.leathergiftitems.com luggage store offers a special briefcase for the very practical and the very fashion conscious person, in a well-known brand, backed by the store's 30-day return policy and five-year to lifetime manufacturer warranties. Check out the company's LeatherGiftItems Facebook site for featured products and sales. The store prices are now marked down low for back-to-school or special occasion purposes. The on-line briefcase store appeals to men and women who travel and want to lighten their load, with the requirements on mobile professionals to always be plugged in with laptops and other devices. Most all of the briefcases facilitate these business tools.
Hurry to take advantage of the sale while your favorite colors are available. You may read more about the luggage company by reading the http://www.leatherGiftItemsBlog.com for product features and details.