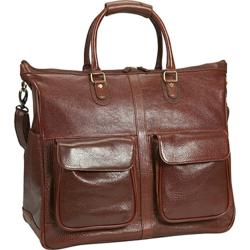 " I was extremely please when I came across Dr Koffer. Their commitment to exceptional quality products reflects our commitment at LeatherPaKs to bring our customers the finest products available"
Mays Landing, NJ (PRWEB) May 01, 2011
LeatherPaKs continuing effort to add quality leather bags to their website was just greatly enhanced with the addition of Dr Koffer Fine Leather Accessories. Dr.Koffer is known for its durability, quality and high regard for style. Their signature leathers are some of the most sought after in the world. Dr Koffer's commitment to the highest standards of workmanship and materials reflects the confidence and daring spirit of the LeatherPaKs patrons. Dr. Koffer marries old world craftsmanship with an innovative and eclectic view of design in their collections of briefcases, duffels and wallets for men and women.
Dr Koffer offers four types of leather Karelia, Venetian, Nappa Onyx and Country Lux, which are elegantly crafted to create their eclectic styles of leather briefcases, leather duffle bags and leather wallets. Each Dr Koffer signature leather has unique characteristics which set them apart. The Venetian is a luxurious leather made from the finest full grain Italian hides. The distinctive pebble grain texture creates depth and character. It is specially treated to retain its soft hand. The leather is finished with a light semi-gloss coating intensifying the rich hues of this natural vegetable tanned leather. Each hide is hand picked to ensure consistency and delivery of the highest quality product .Karelia Black made from only top grain leather, Karelia is prized for its durability and resilience. Because of the hides' pliable nature, Karelia is great for any accessory. Its unmistakable light grain texture has a warm, velvety hand that is wonderfully pleasant to the touch. The matte glaze finish lends a muted but luxurious appearance that will burnish with use and look even better with time. Country lux is made from the finest top grain Italian hides following time-honored methods left by the past masters. The hides are vegetable tanned using natural tannins and then hand stained to bring out the rich hues and fine details of the leather's natural grain and texture. A light glaze gives this leather richness and depth. The result is a timeless classic. Nappa Onyx is renowned for its softness, and exceptional durability, our Nappa Onyx is a full grain leather that is tanned in a mixture of vegetal and chrome. Each hide is drum dyed for consistent color throughout. The leather's smooth silky texture develops a rich patina becoming even better looking with age
Some examples of these high quality leather products at LeatherPaKs are:
Dr Koffer Marvin Flap Over Briefcase - Venetian Leather. The Marvin is a briefcase that can be worn by both men and women. A practical briefcase with many features and compartments
Dr Koffer Chaucer Travel Bag - Country Lux Leather. The Chaucer has a metal frame allows for the bag to stay open in an upright position for easy access
Dr Koffer Herman Shoulder Bag - Karelia Leather. A great accessory for traveling with its versatile look and convenient organizational features
"In searching for for fine quality leather bags to add to our product line and I was extremely please when I came across Dr Koffer. I feel that their commitment to exceptional quality reflects our commitment at LeatherPaKs to bring our customers the finest products available," said Walter Schmidt, Owner, LeatherPaKs.com
# # #