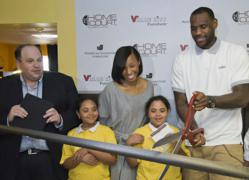 We partnered with LeBron and Savannah knowing their charitable commitment and we're proud to be a part of all the community outreach they are involved with.
Columbus, Ohio (Vocus/PRWEB) March 24, 2011
In a commitment made during one of the most publicized free agent announcements, LeBron James announced his partnership with The Boys & Girls Clubs of America. The nearly $3.5 million gift to the national nonprofit was only the start of all that LeBron would be giving back to Boys & Girls Clubs across the country.
From donations that span makeovers with his furniture line, HomeCourt by LeBron James, to a partnership that brought HP computers to each of the 59 Clubs, James and the LeBron James Family Foundation have used their fortune to work tirelessly to better the lives of others.
"Kids are our future. And if we can shed light on situations that may not be great and give them a safe place to hang, that's what we can do," commented James. "The opportunity to be able to give back to these kids is something I'm happy to have."
That's why it wasn't a surprise when the LeBron James Family Foundation opted to partner with American Signature to remodel his, now local, Boys & Girls Club of Miami-Dade. The remodel, valued at more than $50,000 in American Signature retail products included many traditional sofa and chair collections, but featured LeBron's own HomeCourt Collection.
"We partnered with LeBron and Savannah knowing their charitable commitment and we're proud to be a part of all the community outreach they are involved with," said American Signature COO Jonathan Schottenstein. "The Miami Club remodel was an ideal fit -- the facility had been robbed recently, had severe water damage, and old, outdated materials that did not provide the kids optimal study and entertainment areas."
The remodel included four rooms within the Miami-Dade Club. The Teen Room -- a freestanding facility dedicated to providing teens with the space they need to relax, study and enjoy technology, needed ample foundation repairs to fix water and termite damage. American Signature covered the construction crew for this and all other building repairs, as well as secured the paint crews to update all the newly remodeled rooms with fresh, vibrant colors.
The Teen Room furniture included traditional American Signature leather sofas, HomeCourt nightstands-turned-end tables, study area desks and tables, a bookshelf and a variety of HomeCourt accessories.
Further renovations in the main facility included removal of unusable vending machines and outdated game tables. Additions included updating a hall of fame photography wall of former Club members who have gone on to succeed in adult life and a fully furnished computer lab -- complete with LeBron posters and HomeCourt accessories.
Perhaps the two most used rooms included in the remodel are the game room and connecting lounge. Both received necessary structural repairs, new paint and new furniture, complete with foosball tables and an entertainment center.
"Having a fun, functional and safe place to be when not at home is ideal," Boys & Girls Club Vice President Frank Sanchez stated.
But the gift didn't stop at the Miami-Dade Club. All members of the Boys & Girls Club of Miami-Dade were entered to win a bedroom makeover, valued at $500, featuring the HomeCourt by LeBron James Collection. The drawing was held during the celebration event unveiling the newly remodeled Miami-Dade facility. The lucky winner, quickly became winners, and received much more than the standard $500 drawing.
"Our HomeCourt bedroom makeover winner was a twin. She jumped right up, saying 'me! Me!' when her name was called and all the other kids cheered for her," explains Steve Haffer, American Signature vice president of marketing. "She instantly celebrated with her twin sister -- which instantly changed our perspective on her prize."
Perspective continued to change for American Signature once they met the young girls' mother and learned of their troubling story. The family home had been robbed twice in the last eight months. "The mother explained that after the first time they replaced all that they could. But the second time -- they gave up. They didn't replace any of the stolen items," shared Haffer.
At a time when the economy, at its best is still in recovery, all it took was the commitment of one man to make the lives better for kids across the country, allowing partners like American Signature to truly step-up and help kids dream big.
"It's awesome what we could do for this family," James stated. "To give them a sense of reassurance, a life back, when they had nothing -- it's what it's all about."
The bedroom makeover became a $7,000 donation that included a custom bedroom design by American Signature's Visual Merchandising Director Robert Grimmett.
"I met the girls and their mother at our local Sawgrass Mills store to help them select some items that would help them share their space and create an ideal little girls' bedroom," explained Grimmett. "And once they started telling me their story -- the whole vision changed. This family needed more than a bedroom set, they needed a back-to-life set."
Complete with a design rendering, paint specs and two trundle beds fit for a sleepover, the new bedroom was completely outfitted in the HomeCourt by LeBron Collection with a few American Signature OMG™ elements to put a 'girl spin' on the basketball-themed collection. And of course, the finishing touch is the surprise of LeBron autographed posters.
"The relationship with the LeBron Family Foundation, American Signature and the Boys & Girls Club will only continue to grow through generous outreach like this," noted Sanchez. "We're thrilled with what American Signature and LeBron have done for our Clubs."
About American Signature Furniture
Based in Columbus, Ohio, American Signature Inc. is one of the country's largest furniture retailers with more than 130 stores in operation under the American Signature Furniture and Value City Furniture brands. Ranked repeatedly among the top 10 in Furniture Today's list of Top 100 Furniture Retailers, American Signature has provided affordable, high-quality furnishings with outstanding customer service and an unbeatable selection for more than 60 years. For more information about American Signature Furniture visit http://www.asfurniture.com.
###