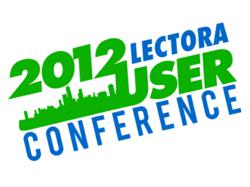 Lectora users who develop mobile content will have the unique opportunity to connect with Intuition and learn how Intuition's solutions and services can enhance their Lectora mobile projects
CINCINNATI (PRWEB) March 20, 2012
The 2012 Lectora® User Conference announces Intuition as a Platinum Sponsor Exhibitor at the upcoming e-Learning conference May 22-24 in Chicago. Intuition (http://www.intuition.com) will showcase their award-winning Mobile Learning and Mobile Knowledge Platform to connect successful mobile learning technologies with e-Learning professionals at the annual industry event.
"Mobile learning development and technologies will be a hot topic and a big focus at the Lectora User Conference this year," said Peter Bray, Chief Marketing Officer at Trivantis Corporation. "Lectora users who develop mobile content will have the unique opportunity to connect with Intuition and learn how Intuition's solutions and services can enhance their Lectora mobile projects."
In addition to exhibiting, Intuition also serves as the official sponsor of the Lectora User Conference Closing Celebration as well as the exclusive mobile learning vendor at the event. Hosted on the 99th floor of the Skydeck Chicago in Willis Tower, formerly known as the Sears Tower, the Closing Reception welcomes guests to a fantastic night of great views, hors d'oeuvres, cocktails, music and networking.
Intuition's innovative mobile learning and knowledge delivery solutions help organizations create, deliver and track courses, surveys, assessments and other content seamlessly and directly to their workforce. Supported on major platforms, including iPhone and iPad, Android, Windows Phone and Blackberry, Intuition provides a proven and market leading solution for developers looking to deliver content to mobile devices.
In its eighth year, and after high demand, the Lectora User Conference welcomes exhibitors for the first time. The addition of exhibitors at the Lectora User Conference provides the link between content developers and valuable e-Learning services to help users enhance the content they create with Lectora e-Learning authoring tools.
"Our mission is to release and circulate knowledge that is trapped within organizations," said David Harrison, Chief Executive Officer at Intuition. "We're delighted to support the event as it's a great opportunity to meet with organizations who use Lectora and demonstrate how Intuition is the perfect partner to effectively and securely distribute knowledge and learning to mobile devices."
For more information about the 2012 Lectora User Conference including keynote speakers, presentations, exhibitors, registration and more, please visit: 2012 Lectora User Conference.
About The Lectora User Conference and Trivantis Corporation
The Lectora User Conference is a leading e-Learning industry event that attracts professionals from around the world to advance their development skills, increase their e-Learning knowledge and network with other e-Learning professionals. As the flagship product for Trivantis, Lectora® is the world's leading e-Learning software used by most Global 2000 companies in more than 125 countries and is offered in six languages. The Lectora line of e-Learning products includes Lectora Inspire, Lectora Online, Lectora Publisher and Lectora Integrator. Trivantis also produces Flypaper™, the leading Flash content creation platform that empowers users to create, edit, share, track and reuse high-impact Flash and video content. Snap! by Lectora® is the easy-to-use PowerPoint plug-in rapid e-Learning software that converts PowerPoint to Flash. Its sister product, Snap! EmpowerTM Flash interactions builder, enables anyone to create Flash content without having to know Flash programming. To round out the Trivantis family of products, CourseMill is the powerful and affordable learning management system (LMS). Headquartered in Cincinnati, Ohio, Trivantis Corporation also has offices in Boca Raton, Phoenix, Paris and London. Trivantis, Lectora, Flypaper, CourseMill, Snap! by Lectora and Snap! Empower are trademarks of Trivantis Corporation.
Website: http://www.Trivantis.com
Phone: 877.929.0188
Facebook: facebook.com/Trivantis & facebook.com/SnapByLectora
Twitter: twitter.com/Lectora
Blog: trivantis.com/blog & SNAPbyLectora.com/e-Learning-blog
About Intuition
Intuition is a leading knowledge management company with over 27 years experience deploying enterprise learning solutions to Fortune 500 Companies. Solutions include an extensive off-the-shelf eLearning library, custom content development, mobile learning technologies, simulation and instructor-led courses. With headquarters in Dublin, Intuition has a network of offices across the globe in London, New York, Singapore, Hong Kong, Sydney, Abu Dhabi and Dallas.
Website: http://www.intuition.com
Phone: +1 212 686 3936
Twitter: @intuition_com