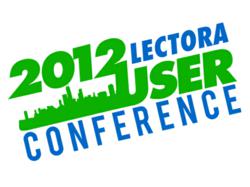 This live session is a unique opportunity to see why hundreds of e-Learning professionals from around the world gather at the Lectora User Conference and keep coming back
Cincinnati, OH (PRWEB) April 23, 2012
Lectora® e-Learning software will host a free webinar on April 25 to provide attendees a sneak peek into the upcoming Lectora User Conference in Chicago May 22 – 24. Lectora User Conference team members will preview the highly anticipated event including keynote presenters, e-Learning sessions, exclusive networking opportunities and more. This live session will also allow attendees to get answers to their questions about the almost sold-out conference.
"This live session is a unique opportunity to see why hundreds of e-Learning professionals from around the world gather at the Lectora User Conference and keep coming back," said Peter Bray, Chief Marketing Officer at Trivantis Corporation. "We'll provide an exclusive preview into all the e-Learning and fun we have in store for our users at the conference in just a few weeks. From once-in-a-lifetime networking events and world-renowned keynote speakers to expert e-Learning sessions and of course, a few surprises, there is a lot to be excited about regarding the 2012 Lectora User Conference."
In this free, live session, attendees will get a sneak peek of the 2012 Lectora User Conference including:

The Chicago Marriott Downtown Magnificent Mile, the official conference hotel and the center of all the action at the event
e-Learning exhibitors full of helpful tools, enhancements and information for attendees
Renowned keynote presenters Erik Wahl, Jeremy Gutsche and Sandy Carter
Dozens of in-depth e-Learning breakout sessions to learn new tips and skills
Full day training surrounding the conference for Lectora, Flypaper, instructional design and more
Fun networking events including the 1920s Speakeasy Welcome Reception and the Closing Celebration atop the Skydeck Chicago on the 99th floor of Willis Tower
Attendee Appreciation Pack worth $800
Question and answer session to get the conference scoop directly from the Lectora team.
…and more!
The Lectora User Conference is a leading e-Learning industry event that attracts professionals from around the world to advance their development skills in Lectora e-Learning software, increase their e-Learning knowledge and network with other e-Learning professionals. Those interested in attending are encouraged to reserve their place at the conference as soon as possible, as space is almost sold out.
For more information about the Lectora User Conference and to register to attend, please visit: 2012 Lectora User Conference.
About Lectora and Trivantis Corporation
Lectora® is the world's leading e-Learning software used by most Global 2000 companies in more than 125 countries and is offered in six languages. The Lectora line of e-Learning products includes Lectora Inspire, Lectora Online, Lectora Publisher and Lectora Integrator. Trivantis also produces Flypaper™, the leading Flash content creation platform that empowers users to create, edit, share, track and reuse high-impact Flash and video content. Snap! by Lectora® is the easy-to-use PowerPoint plug-in rapid e-Learning software that converts PowerPoint to Flash. Its sister product, Snap! EmpowerTM Flash interactions builder, enables anyone to create Flash content without having to know Flash programming. To round out the Trivantis family of products, CourseMill is the powerful and affordable learning management system (LMS). The latest release, Lectora Talent Management, provides the link between course management and true talent development for companies and organizations. Headquartered in Cincinnati, Ohio, Trivantis Corporation also has offices in Boca Raton, Phoenix, Paris and London. Trivantis, Lectora, Flypaper, CourseMill, Snap! by Lectora and Snap! Empower are trademarks of Trivantis Corporation.
Website: http://www.Trivantis.com
Phone: 877.929.0188
Facebook: facebook.com/Trivantis
Twitter: twitter.com/Lectora
Blog: trivantis.com/blog & SNAPbyLectora.com/e-Learning-blog