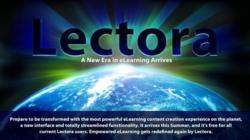 Users will experience better, faster and more powerful functionality from the moment they launch Lectora
Cincinnati (PRWEB) October 26, 2011
Lectora®, widely known as the leader in e-Learning software for more than a decade, announces plans to release a completely redesigned, new user interface for its flagship e-Learning authoring software. With this new, improved user interface, Lectora authors will experience easier navigation and streamlined functionality, saving them both time and money.
Lectora pioneered full-featured e-Learning technology and continues its leadership in the e-Learning world as the most powerful authoring software on the market. Now, with this fully redesigned Lectora the possibilities are endless.
"We are excited to streamline and enhance the development process with an entirely new user experience in Lectora," said John Blackmon, Senior Vice President of Authoring Products at Trivantis Corporation. "Users will experience better, faster and more powerful functionality from the moment they launch Lectora."
In addition to the new, inventive interface, Lectora will also come with brand new features to provide authors with even more innovative ways to create robust and highly engaging e-Learning content. This new and improved Lectora will provide the complete e-Learning package for the development of sophisticated and interactive content.
"Backed by over a decade of experience in the creation of powerful e-Learning software, we remain dedicated to staying on the leading edge of innovative technologies while making development as easy as possible for our users," said Peter Bray, Chief Marketing Officer at Trivantis Corporation. "The completely new, redesigned Lectora will provide intuitive functionality to make creating e-Learning content easier than ever."
This newly designed Lectora unveils Summer 2012 and is offered free to all current Lectora users.
To join in on the private beta of the new version of Lectora, please sign up at http://www.Trivantis.com/New-Lectora-Beta.
For more information about the Lectora line of e-Learning authoring products, please visit http://www.Lectora.com.
About Lectora and Trivantis Corporation
Trivantis Corporation produces Lectora, the world's leading e-Learning software, used by most Global 2000 companies. Lectora is sold in over 70 countries and is offered in six languages. Trivantis Corporation also develops Snap! by Lectora, the easy-to-use PowerPoint plug-in e-Learning software that rapidly converts PowerPoint to Flash. CourseMill learning management system and Custom Development Services are also included in the Trivantis family of products. The latest release by Trivantis now includes Flypaper, the leading Flash content creation platform that empowers programmers and non-programmers alike to create, edit, share, track and reuse high-impact Flash and video content. Headquartered in Cincinnati, Ohio, Trivantis Corporation also has offices in Boca Raton, Phoenix, Paris, London and Beijing. Trivantis, Lectora and CourseMill are trademarks of Trivantis Corporation.
Website: http://www.Trivantis.com
Phone: 877.929.0188
Facebook: facebook.com/Trivantis & facebook.com/SnapByLectora
Twitter: twitter.com/Lectora
Blog: trivantis.com/blog & SNAPbyLectora.com/e-Learning-blog
###