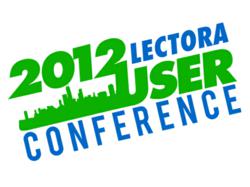 Wahl will motivate attendees to tap into their own creativity and unlock powerful and innovative ideas
CINCINNATI (PRWEB) April 12, 2012
The 2012 Lectora User Conference announces Erik Wahl, internationally recognized artist, author and entrepreneur, as a speaker and performer at the upcoming e-Learning conference in Chicago. Wahl, best known for his forward thinking, unique visions, on-stage performance and striking works of art, will close a full day of innovation and learning on Wednesday, May 23 at the Lectora User Conference.
"We are excited to add Erik Wahl, his revolutionary thinking and powerful performance to our world-renowned Lectora User Conference speaker line-up," said Peter Bray, Chief Marketing Officer at Trivantis Corporation. "Wahl will motivate attendees to tap into their own creativity and unlock powerful and innovative ideas."
As one of the most sought-after corporate speakers, Erik Wahl provides an exhilarating breath of fresh air for audiences expecting the typical keynote presentation. Wahl pushes audiences to achieve things they never knew they could and challenges them to break out of the status quo. Known for his on-stage vibrant paintings of innovative thinkers, leaders and cultural icons, Wahl metaphorically and literally paints a picture of the world as an artist sees it and demonstrates how to apply business principles to artistic visions.
Wahl will join highly anticipated keynote presenters and innovative thinkers at the 2012 Lectora User Conference including Jeremy Gutsche, Chief Trendhunter at Trendhunter.com and Sandy Carter, IBM Vice President, Social Business Evangelism and Sales. This eighth-annual e-Learning event draws e-Learning developers and professionals from all over the world to learn, share ideas and network with their peers, product developers and industry experts. Hosted May 22-24 at the Chicago Marriott Downtown Magnificent Mile, this upcoming conference boasts innovation, big ideas, high engagement, learning and fun.
For more information about Erik Wahl, his vision and his art, please visit: http://theartofvision.com/.
For more information about the Lectora User Conference including the full schedule of more than 20 e-Learning presentations, to register and more, please visit: 2012 Lectora User Conference.
About Lectora and Trivantis Corporation
Lectora® is the world's leading e-Learning software used by most Global 2000 companies in more than 125 countries and is offered in six languages. The Lectora line of e-Learning products includes Lectora Inspire, Lectora Online, Lectora Publisher and Lectora Integrator. Trivantis also produces Flypaper™, the leading Flash content creation platform that empowers users to create, edit, share, track and reuse high-impact Flash and video content. Snap! by Lectora® is the easy-to-use PowerPoint plug-in rapid e-Learning software that converts PowerPoint to Flash. Its sister product, Snap! EmpowerTM Flash interactions builder, enables anyone to create Flash content without having to know Flash programming. To round out the Trivantis family of products, CourseMill is the powerful and affordable learning management system (LMS). The latest release, Lectora Talent Management, provides the link between course management and true talent development for companies and organizations. Headquartered in Cincinnati, Ohio, Trivantis Corporation also has offices in Boca Raton, Phoenix, Paris and London. Trivantis, Lectora, Flypaper, CourseMill, Snap! by Lectora and Snap! Empower are trademarks of Trivantis Corporation.
Website: http://www.Trivantis.com
Phone: 877.929.0188
Facebook: facebook.com/Trivantis & facebook.com/SnapByLectora
Twitter: twitter.com/Lectora
Blog: trivantis.com/blog & SNAPbyLectora.com/e-Learning-blog