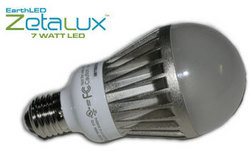 Boca Raton, FL (PRWEB) July 24, 2009
Advanced Lumonics, an early leader in the direct replacement LED lighting market through its EarthLED brand has announced new pricing for its popular EvoLux (TM) and ZetaLux (TM) LED light bulbs.
Since the introduction of the revolutionary EvoLux on EarthDay 2008, EarthLED has been lighting the way forward in the direct replacement LED lighting market with products that are not only leaders in terms of performance but also value. These attributes have allowed EvoLux and its sister product, ZetaLux to become some of the best selling LED Lighting products on the market. Thanks to increased production and lower component costs, Advanced Lumonics is announcing price decreases for EvoLux and ZetaLux to $49.99 and $39.99 respectively. These price reductions are a win-win for consumers looking to update their homes and businesses to LED technology while still allowing for payback times as little as one year.
Managing Director of Advanced Lumonics, Mark Costigliola commented on the price reductions stating: " These price points also allow EvoLux and ZetaLux to offer a unique value in the industry with price performance ratios that are truly unmatched. While the value segment of the LED lighting industry has traditionally been filled by low quality products with questionable safety and performance characteristics, the EvoLux and ZetaLux remain leaders in terms of real world performance and capabilities. Over the next 6 months we will continue to drive the price of LED lighting closer to the $20 price point with products that offer world beating features and performance."
EvoLux and ZetaLux offer a superior combination of industry leading features including:

90~ 277 Volt AC and 40~400 Volt DC input compatibility with instantaneous switching
Shatterproof lens and durable impact resistant housings
Unmatched thermal performance and the ability to withstand temperatures above 150 degrees F with 95% Humidity
Class leading active power factor optimization design allowing for >.85 PF
Superior Color Rendering with a CRI >80
Single source high power CREE LED with superior optical diffuser design
Full UL, CE, FCC, RoHS compliance
Both ZetaLux and EvoLux are available today from The EarthLED Store and Advanced Lumonics distribution partners.
For additional information on EarthLED ZetaLux visit: ZetaLux LED Light Bulb
To learn more about EarthLED EvoLux visit: EvoLux LED Light Bulb
For information on the rest of the EarthLED LED lighting products range please visit: EarthLED.com LED Lighting
or call 1-877-855-1625.
About Advanced Lumonics
Boca Raton, FL based Advanced Lumonics is an early leader in the direct replacement LED lighting market. Through their popular EarthLED brand, Advanced Lumonics has rapidly increased awareness of LED lighting as a true alternative to CFL and incandescents in the consumer marketplace by offering the highest performance direct replacement LED lighting available.
# # #