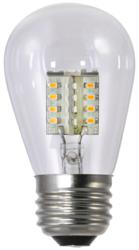 UCSF Parnassus Campus was an interesting project
San Francisco, CA (PRWEB) February 27, 2012
Bay Area energy saving light bulb company, GreenVantage Solution Inc., a local LED bulb and fixture distributor, advocates the use of energy-saving alternatives in lieu of incandescent bulbs. Towards this end, GreenVantage assisted the University of California at San Francisco (UCSF) Parnassus Campus in its efforts to go green by replacing the 25-watt incandescent bulbs in some of its lecture halls' step lights with 2-watt DesignoLux 360 S14 LED bulbs.
"UCSF Parnassus Campus was an interesting project," Christine Capulong of GreenVantage Solution said. "Since they were using incandescent bulbs in their aging step-light fixtures, the vibrations from students walking on the steps would break the bulbs' filaments. They would literally have a maintenance crew change out the light bulbs every couple of weeks. It definitely became a costly maintenance issue. Luckily, we were able to supply them with a direct LED replacement bulb solution with the DesignoLux 360 S14 LED bulb at a quarter of the cost of replacing the entire fixture."
LED fixtures usually cost around $100 each, exclusive of installation fees, making retrofitting to LED fixtures a pricey undertaking for older buildings whose step lights were built for incandescent lamps. Therefore, GreenVantage Solution recommends using a LED direct replacement light bulb instead of changing out the entire fixture.
"For the UCSF Parnassus Campus, we were able to use two of the S14 bulbs to replace each incandescent bulb. At 2 watts, 100 lumen output (comparable to a 10-watt incandescent), an average life span of 35,000 hours, and no filaments to break, this LED choice was a no brainer. Not only did UCSF lower their energy costs significantly but also the maintenance costs of continuously replacing the bulbs."
The DesignoLux 360 S14 is a product from EarthLED, the consumer division of Advance Lumonics that delivers the latest innovations in energy-efficient lighting directly to the public. The DesignoLux 360 combines an exceedingly efficient Simufilament light engine, based on A/C LED technology, with conventional incandescent fabrication methods. This distinguishes the DesignoLux 360 because it looks and performs like a traditional incandescent but is both more energy efficient and saves more money. The Designolux 360 S14 LED bulbs are great for step lights, refrigeration lighting, marquees and signs.
The Bay Area's GreenVantage Solutions Inc. features LED light bulbs that are not only environmentally friendly and free of hazardous substances like mercury, but that significantly lower energy costs as well. GreenVantage helps businesses reduce kilowatt per hour of electricity used, resulting in less CO2 emissions and a smaller carbon footprint. Furthermore, LED lighting has an expanded life span, resulting in lower maintenance costs.
"The cost of LED lights have come down considerably and with rebates, they are now affordable, and it makes sense to change to LEDS, as they lower monthly electricity bills by at least 30 to 50 percent," Capulong said.
For more information about the DesignoLux 360, LED lighting products, or any other products or services from GreenVantage Solution Inc., call 415-874-9978 or view the company on the web at http://www.greenvantagesolution.com.
About GreenVantage Solution Inc.
The Bay Area energy saving light bulb company, GreenVantage Solution Inc. is a woman-owned, minority, small business distributor that represents Advanced Lumonics, a quality manufacturer of EarthLED direct replacement light bulbs. EarthLED bulbs are effective substitutes for incandescent, halogen, fluorescent and CFL light bulbs normally used in government, commercial and industrial buildings. EarthLED lights contain no mercury or other hazardous substances.
# # #