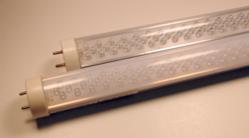 By going green, not only do I have the feel good factor from helping to reduce my carbon footprint, but I have the added benefit of being able to pass on the resulting savings in utilities, maintenance and administrative costs to my clients
San Francisco, CA (PRWEB) May 23, 2012
The Law Offices of Grace R. Alano, a San Francisco full-service boutique immigration law firm, has always been active in adopting sustainable, but profitable, practices. In an effort to continue going green, GreenVantage Solution Inc. helped further the law offices environmental practices by replacing the office's fluorescent tube lights with DirectLED four-foot tube, T8 replacement lamps.
"This 48-inch LED tube is a direct, 'drop-in' replacement for standard fluorescent light tubes. It is compatible with virtually every standard ballast equipped fluorescent light fixture. DirectLED 4-foot T8 replacements have a wattage of 15 watts, which replaced the 34-watt fluorescent lamps."
Not only is the law office saving money on their energy bill, but they are also contributing to going green by changing out to LED light bulbs.
"By going green, not only do I have the feel good factor from helping to reduce my carbon footprint, but I have the added benefit of being able to pass on the resulting savings in utilities, maintenance and administrative costs to my clients," Grace Alano of The Law Offices of Grace R. Alano said.
Changing to LED lighting also had an immediately positive effect on the office's ambiance. Although the office features beautiful natural light during the day, at night the fluorescent lighting would cast a stark, somber pallor over the office and cause eye strain. The lights would also flicker, making it worse.
"With the new LED light bulbs, the office maintains that bright feel, and my eyes don't have the added strain of having to adjust to horrible lighting. The lights also don't flicker. I think that many law firms could benefit by making the switch to LED lights. Many lawyers work 50-plus hour weeks and often times work into the night when there are filing deadlines. There would be enormous savings in utilities costs, and it would be a morale booster to the partners and associates to not have to work late into the night in a fluorescently lit room. Not to mention, it would help relieve eye strain," Alano said. "It was an easy retrofit. We used the existing light fixtures and just changed out the fluorescent tubes to the LEDs."
The DirectLED FL series is a replacement for traditional T8, T10 and T12 fluorescent tubes, bringing LED technology to environments never before possible. DirectLED is the most comprehensive family of LED Linear lighting available, from 12-in to 8-ft to U-Bent.
Among the many benefits of DirectLED 4-foot lamps are a long life, extreme efficiency and flexible voltage. DirectLED has a 50,000-plus hour lifespan and are more than 80-percent more efficient than traditional fluorescent tubes. There is no ballast required, thus allowing even more energy to be saved. It can also be used in AC 110 – 277V or DC 12V input environments. It also features a shatter-free design and has no mercury. The DirectLED is one of the first and only LED fluorescent retrofit solutions to be both UL classified for safety at 100 - 277VAC and to have undergone stringent, independent LM79 testing to ensure both safety and verified performance.
For more information about Direct LED lighting products, or any other products or services from GreenVantage Solution Inc., call 415-874-9978 or view the company on the web at http://www.greenvantagesolution.com.
About GreenVantage Solution Inc.
The Bay Area energy saving light bulb company, GreenVantage Solution Inc., is a woman-owned, minority, small business distributor that represents Advanced Lumonics, a quality manufacturer of EarthLED direct replacement light bulbs. EarthLED bulbs are effective substitutes for incandescent, halogen, fluorescent and CFL light bulbs normally used in government, commercial and industrial buildings. EarthLED lights contain no mercury or other hazardous substances.