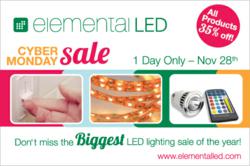 At Elemental LED, we are proud to be the only online LED lighting retailer that hosts a Cyber Monday sale on the busiest online shopping day of the year.
San Francisco, CA (PRWEB) November 22, 2011
Elemental LED, a San Francisco Bay Area-based LED lighting company, announced today that it will discount its entire inventory of products by 35% on Cyber Monday, November 28th. This is the second year that Elemental LED will participate with online retailers in Cyber Monday, following last year when the company also discounted products by 35%.
The LED Lighting Cyber Monday sale will begin on November 28th at 12:00 a.m. Eastern Standard Time and end on November 29th at 12:00 a.m. Pacific Standard Time. The company expects call volume to be high and has allocated extra personnel to assist customers over phone, chat and email, and to fulfill orders.
"We are proud to be the only online LED lighting retailer that hosts a Cyber Monday sale on the busiest online shopping day of the year," says Elemental LED Marketing Manager Charlotte Dick. "Last year's sale was such a success that we plan on making this sale bigger and better than ever."
Elemental LED has increased stock on most popular products, which the company expects will sell well during the sale. Some of these products include LED strip lights in varying degrees of brightness and colors, color-changing LED light bulbs and strip lights, waterproof LED light bars, dimmable LED puck lights, LED dimmer switches, unique LED Christmas lights and LED plug-and-play kits of all kinds.
Elemental LED has been instrumental in bringing energy-efficient LED lighting into the mainstream by not only offering a unique catalog of products for practical application, but also offering a library of instructional videos, tutorials and diagrams on how to install LED lights.
Elemental LED representatives encourage customers to start planning their order early, and to call 877-564-5051 for assistance before and during the sale. To learn more about Elemental LED and the LED Cyber Monday sale on November 29th, please visit http://www.elementalled.com/2011-cyber-monday-led-light-sale.
About Elemental LED:
Elemental LED is where style meets sustainable lighting. Elemental LED offers a wide selection of LED lighting products for home and business owners, including LED strip lights, light bars, puck lights, wall washers, light bulbs, controllers, power supplies and more. Products include dimming, color-changing and waterproof functionality. Elemental LED offers in house engineering and comprehensive customer service and education, from live phone support to online tutorials. LED lighting technology is the safest, hippest, and most energy efficient way to light up the world. Learn more at http://www.elementalled.com.
###