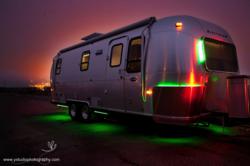 People seem to think that LEDs are aggressive and not attractive, but that couldn't be further from the truth. Visitors to the Airstream are excited to learn about alternatives to CFL and incandescent lighting.
San Francisco, CA (PRWEB) January 09, 2012
Elemental LED, A San Francisco Bay Area based LED lighting company, announced that it is a sponsor of On the Green Road, a recent project by Bay Area-based environmentalists Cece Reinhardt and Brenda Daugherty who retrofitted a 2003 Airstream so that it could operate sustainably off the grid. Elemental LED outfitted the Airstream with LED lighting inside and out, which is integral to keeping the Airstream's energy-consumption low. Reinhardt and Daugherty have now been on the road with the green RV for four months.
Reinhardt and Daugherty aim to travel around the U.S. in the retrofitted Airstream hauled by a bio-fueled Dodge Ram. They are currently holding open houses, attending conventions, and educating the public about sustainable living along the way. So far their travels have included Santa Cruz CA, Ashland OR, Tucson AZ and Austin TX. On the Green Road will be hosting an open house outside Elemental LED headquarters in Emeryville, CA on March 3, 2012.
The LED lights on the green RV work in conjunction with two solar panels installed on the roof of the Airstream, and a battery with a monitor so Reinhardt and Daugherty can track their energy use.
"The LEDs hardly budge the battery charge at all," reports Reinhardt from the road in Comfort, Texas. "The most common comment we get from visitors is how strong the amount of light is and how soft and natural the quality is. People seem to think that LEDs are aggressive and not attractive, but that couldn't be further from the truth. Visitors are excited to learn about alternatives to CFL and incandescent lighting."
The interior of the RV is outfitted with dimmable LED strip lights and diffusers in the kitchen, dinette, bathroom and reading areas. "We love using the dimming light strips; they offer wonderful mood lighting without the glare of being in our direct line of sight," says Reinhardt. LED puck lights on 12V dimmers create general area lighting throughout the interior of the RV.
Waterproof color-changing LED strip lights outfit the exterior of the RV, creating a dramatic glow on the Airstream's metal finish during the evenings. "The outside waterproof lights add great night lighting. They are currently set to green and we used them every night in December to be in the holiday spirit," added Reinhardt.
Other green components that Reinhardt and Daugherty used to retrofit the Airstream include earth plaster walls and ceilings by American Clay, a composting toilet by Nature's Head, Vida cork planks and natural linoleum flooring, Paperstone and natural linoleum counter tops, and Madagascar Ebony Echo Wood veneer cabinets by Hardwoods Inc among others. Their 2006 Dodge Ram is fueled with waste vegetable oil.
Elemental LED teamed up with On the Green Road in 2010 when Reinhardt and Daugherty were beginning the Airstream retrofit. "It has been amazing to see an outdated 2003 Airstream gutted and transformed into a sustainable living space. It is definitely an eco-traveler's dream and I am proud that Elemental LED played a part in the transformation," says Elemental LED Marketing Manager Charlotte Dick.
To learn more about Elemental LED, please visit http://www.elementalled.com. To learn more about On the Green Road, please visit http://www.greenrvlife.com.
About Elemental LED:
Elemental LED is where style meets sustainable lighting. Elemental LED offers a wide selection of LED lighting products for home and business owners, including LED strip lights, light bars, puck lights, wall washers, light bulbs, controllers, power supplies and more. Products include dimming, color-changing and waterproof functionality. Elemental LED offers in house engineering and comprehensive customer service and education, from live phone support to online tutorials. LED lighting technology is the safest, hippest, and most energy efficient way to light up the world. Learn more at http://www.elementalled.com.
# # #