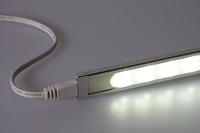 As fluorescent and incandescent lighting become obsolete, new and elegant LED lighting solutions are quickly being introduced
Stanton, CA (PRWEB) April 6, 2011
Contractors and homeowners alike are lining up to get the latest technology in home lighting. The old ways of lighting under cabinets, work spaces, and task areas are giving way to new LED technology. Daniel Alvarez, co-founder of LED Distributors explains, "The manners in which we light our homes have become a lot more simple, efficient, and stylish in the last two years. We are constantly innovating new ways to incorporate new LED technologies that help our customers improve their living spaces and save on their electrical costs. Our clients constantly thank us and keep returning! You can't beat that." This week, LED Distributors is launching their new line of fully customizable and beautifully designed LED Under Cabinet Light Bars.
The future of home lighting:LED under cabinet lighting uses 85% less energy than traditional lighting applications. As fluorescent and incandescent lighting become obsolete, new and elegant LED lighting solutions are quickly being introduced. Equipped with top of the line Edison or Cree LEDs, the 2011 LED Under Cabinet Lights are among the brightest and durable of their kind. They come complete with a beautifully brushed silver or black finish, easy-install connectors, and securing brackets. Customers can choose from pure white or warm white to match any decor or mood. Along with the installation guide, all LED Under Cabinet Lights come with a 2-year Warranty.
LED Distributors sell LED lighting for commercial and residential applications. Their assembly and distribution center is located four miles west of Disneyland in Stanton, California. Even though the company has grown substantially since its creation in 2008, the staff is friendly, knowledgeable and offer superior customer service. LED Distributors have positioned themselves in the forefront of the LED lighting wave by providing fully customizable easy to install LED lighting solutions at affordable prices. They have assisted thousands of customers in their projects by providing how-to and DIY videos on their company website.
For anyone thinking about customizing their kitchen with this cutting edge technology, please visit http://www.leddistributors.net.
Press Contact
Brent Mauriello
11033 Dale Avenue
Stanton, CA 90680
714-930-3398
# # #