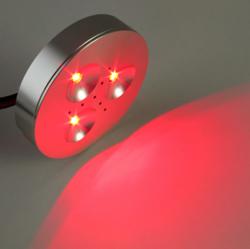 With this new RGB LED puck, you'll get true colors and fantastic clarity.
San Francisco, CA (PRWEB) October 04, 2011
Elemental LED, a San Francisco Bay Area-based LED lighting company is now introducing a Color-Changing RGB LED Puck Light. The new puck, designed and engineered by Elemental LED, includes 3 tri-color RGB chips by High Brightness Edison, making it one of the brightest RGB puck lights on the market.
The 3 RGB chips offer a full color range with even distributions and smooth fading. "With this new RGB LED puck, you'll get true colors and fantastic clarity," says Elemental LED Product Coordinator JB Lowe.
The RGB chips are housed in a sleek, high-design brushed aluminum enclosure that is only ½ inch in height. This enclosure can be surface mounted or recessed. Because of its clean and finished look, the new color-changing LED light is perfect for installations where the light fixture is visible.
The small size of the enclosure means a large light to size ratio. "You get a lot of RGB in a small package," says Elemental LED Lead Engineer Joseph Martin. The new RGB puck light is brighter than other comparable products on the market.
Each color-changing puck light consumes only 1.44 watts of electricity and emits very little heat. Like all LED lights from Elemental LED, it is estimated to last 50,000 hours. The RGB puck light easily connects to any of the LED color controllers sold by Elemental LED. The color controllers offer complete customization in lighting patterns.
The RGB puck is designed to add mood and ambiance in bars, clubs, restaurants and hotel lobbies. It also adds dynamic lighting to displays and windows, and can be installed in living rooms, kitchens, playrooms and dining rooms for added color.
The Color-Changing RGB LED Puck Light is now available for purchase individually and in 3 and 5 puck light kits at http://www.elementalled.com.
About Elemental LED:
Elemental LED is where style and affordability meet sustainable lighting. Elemental LED offers a wide selection of LED lighting products for home and business owners, including LED strip lights, light bars, puck lights, wall washers, light bulbs, controllers, power supplies and more. Products include color-changing, dimming and waterproof functionality. Elemental LED offers in house engineering and comprehensive customer service and education, from live phone support to online tutorials. LED lighting technology is the safest, hippest, and most energy efficient way to light up the world. Learn more at http://www.elementalled.com.
# # #