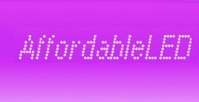 Rowland Heights, CA (Vocus) July 28, 2010
Sweet summer steals on LED signs, open signs, programmable message boards, illuminating LED signs, and more are happening at AffordableLED.com. This August, coffee shop and restaurant owners can save up to 30% on select LED signs, including coffee shop signs and write-on, wipe off illuminated signs.
The L8002 Coffee Oval LED Sign, L8004 Espresso LED Sign, and L8008 Espresso LED Sign are all $110.00, starting August 1, 2010. Customers can save up to 30% on these light weight, multiple animation LED signs. The L8002, L8004, and L8008 coffee shop signs use little energy, are easy to install, brighter than neon signs, and are backed by AffordableLED.com's one-year warranty.
Customers who are looking for something much more customizable will be happy to discover that the write-on, wipe off illuminated signs are also on sale in August. Down from the original price of $215.00, write-on, wipe off illuminated signs are only $195.00. 19 in. by 25 in., these illuminated signs can be set on table tops or hung on windows or walls. Change messages at whim with the included Special Illuminated Marker and Ammonia Free Glass Cleaner. Furthermore, illuminated signs use LED lights that are low in energy consumption, environmentally friendly, and superior to neon lighting.
At the forefront of innovation and technology in cutting-edge marketing tools, AffordableLED.com is an LED signs and open signs company that makes it its mission to offer the absolute best in the signage industry. It is the company's belief that every establishment needs a cost-effective means of advertising, so all LED signs and open signs offered are of high quality and are dependable. Being a direct manufacturer of LED signs and open signs, AffordableLED.com bypasses third party distributors, allowing all LED products and open signs to be offered at lower than market prices.
To find out more about the company's monthly deals and steals, simply subscribe to the mailing list. Additionally, a quick visit to the company's LED signs and open signs blog offers marketing tips and strategies targeted to any business owner.
About AffordableLED.com
Based in Southern California, AffordableLED.com is the leading manufacturer of indoor and outdoor LED signs. All LED signs are high quality and produced with cutting edge technology. LED signs can be customized to suit the needs of the clients. All LED signs sold have a 1-year warranty and a lower-than-market price guarantee. Press release produced by Cybertegic.com - an Internet marketing services agency that specializes in search engine optimized press release marketing (SEO marketing).
###