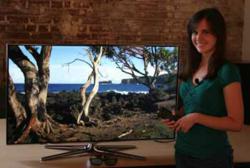 These two Televisions represent what we want to see in LED backlight technology
(PRWEB) January 04, 2012
CEAG editors recently reviewed two top end LED televisions from Samsung – giving them some of highest ratings in the TV world. The D7000 series and the D8000 series were both reviewed. "These two TVs have some of the highest available contrast of any TV in the market," noted veteran reviewer Robert Wiley. "These two Televisions represent what we want to see in LED backlight technology – bright backlighting with exceptional peak white output along with deep dark blacks."
The LED TV Reviews were conducted at the companies home office in Atlanta, GA and are available for the general public by way of the companies lcdtvbuyingguide.com web site. The UND8000 received at 9.25 out of 10 rating while the UND7000 series received an 8.75 both exceptional scores according to the reviewers topping the Best LED TV list on the company's led-tvbuyingguide.com web site.
Following is an excerpt about the UND8000 from the review, "Backlight Notes: The backlight on the UND8000 is extremely powerful. We recommend dialing it back to a setting of 12 for most programming. For a very brightly lit room you may want to increase it. Increasing the backlight setting also brings into play screen uniformity issues - especially from side viewing angles. The left and right edges of the picture can appear lighter than the center. Toning down the backlight eliminates most of this issue. What I like about the UND8000 is that you have the choice to use the super powerful backlight or tone it down depending on room light."
Consumer Electronics Advisory Group Inc. operates several premier buying guide websites, including plasmatvbuyingguide.com, and lcdtvbuyingguide.com, among others. Online since 1999, the company provides objective and thoroughly researched information through professional reviews performed by seasoned reviewers. Editors Robert Wiley and Jack Burden have been reviewing televisions since the first commercial plasma TVs hit the market in year 2000. ISF calibrator John Wirtz has been calibrating televisions professionally for 10 years. The company adheres to strict testing guidelines using the highest caliber equipment. Company web sites have more than 15 million unique visitors each year in the fast growth consumer electronics industry.
###