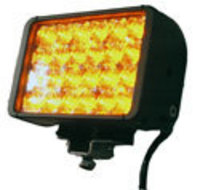 Yellow is the color the eye can see the easiest
Kemp, TX (Vocus) September 12, 2009
In response to demands from military customers, boaters and fire rescue operators, Larson Electronics Magnalight announced the latest addition to its line of low voltage LED lights, the LED24-AMB. Producing yellow light in the 590nm wavelength, this 72 watt, 4,320 lumen output, the LEDBL-24-AMB LED emitter light is designed to improve visibility at distance for users operating in foggy, dusty, smoky or snowy conditions.
"Yellow is the color the eye can see the easiest," said Rob Bresnahan with Larson Electronics. "The configuration of rods and cones in the eye are optimized to see amber or yellow the easiest. When you are trying to penetrate air laden with water particles, dust, snow or rain, the amber color offers the human eye to best visibility at distance. Also, yellow light attract less insects than white light, so operators in inland water areas will draw less insects using amber light than they would with a standard white light. For this reason, a lot of the roadside safety LED beacons, like our CL1B-A our popular as DOT standard beacons. Roadside workers want to be safe and an amber beacon is most visible color to use when dealing with vehicle traffic. This translates well into our high powered LED lights, including our popular LEDLB-24 LED light series. This light will easily cast a wide beam more than 900 feet. Certain white light configurations can cause a lot of refraction or "dazzling" depending on the application in smoky, foggy or snowy conditions. The LEDLB-24 amber LED light is specifically designed to offset this effect and improve visibility. The LEDBL-24 only draws 6 amps and produces light output on par with 500 watt, high voltage quartz lights commonly found on boats and other equipment. Operators can eliminate high voltage wiring, generators, etc and simply runs these LED lights on a basic vehicle or marine battery supported by a standard alternator. Thus they are popular as boat LED lights or vehicle LED lights."
The LEDLB-24 LED light is one member of the family of LEDLB series high powered LED emitter lights designed for boats, vehicles and industrial equipment produced by Larson Electronics Mangalight. Ranging from 12 watt LED lights to 480 watts, Magnalight.com produces LED light configurations to meet the demands of military, industrial and recreational users around the world. You can learn more at magnalight.com or 1-800-369-6671.
# # #