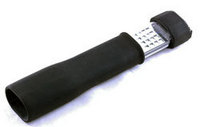 We have several interesting spot and flood combination https://www.magnalight.com/c-190-explosion-proof-led-lights.aspx [explosion proof LED lights] that carry a higher price point than the HL-LED960
Kemp, TX (Vocus) October 8, 2009
Larson Electronics announced a new addition to its line of rechargeable LED drop lights, with the introduction of the HL-LED960. This rechargeable LED light offers both flood light and spotlight illumination options and the user can toggle between modes using a 3 position rocker switch at the base of the handle. The entire LED flashlight is encapsulated in rubber, including both end caps, for shock protection when dropped.
The internal lithium ion battery can run the LED light in spot mode for 24 hours or in flood mode for 24 hours. A collapsible hook at the top of the LED trouble light offers an easy way for operators to hang the light for task lighting operations. The flood light will easily cover an area 15 feet by 15 feet, outperforming standard 100 watt incandescent trouble lights which generally reach about 5 feet. The HL-LED960 handheld LED light is recharged from a wall outlet. As an added benefit, the charger serves to run the LED light, so in the event the battery is fully depleted, the operator can simply plug the charger into the wall and run the light indefinitely.
"We have several interesting spot and flood combination explosion proof LED lights that carry a higher price point than the HL-LED960," said Rob Bresnahan with Larson Electronics' magnalight.com. "We wanted to offer a handheld LED light with a rechargeable lithium ion battery for standard area use.
The LED960 produces 960 lumens and runs up to 24 hours, depending on the selected illumination mode. This is a long lasting, durable alternative to a conventional incandescent trouble light that offers a brighter light without the hassle of a cord. It can be used as a flashlight or for standard task lighting. The bright white LED light will give operators more range of illumination than a standard 100 watt incandescent trouble light."
Larson Electronics offers a wide array of surface mount low voltage LED lighting and rechargeable LED lights for standard area and hazardous location area use. You can learn more about Larson Electronics at magnalight.com or 1-800-369-6671 (1-903-498-6671 international).
###