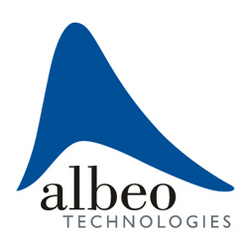 "Our website is integral to providing high levels of customer support and access to the detailed information on our rapidly growing product line"
Boulder, CO (PRWEB) June 28, 2010
Albeo Technologies, award winning manufacturer of industrial and commercial solid-state lighting systems, announces the launch of its new website, designed to better serve and educate its customers, agents, and distributors. The website, http://www.albeotech.com, features a new easy to navigate on-line catalog and readily accessible "Technical Docs". All new specifications, LM-79 reports, photometrics, and installation guides, can be easily downloaded.
"Our website is integral to providing high levels of customer support and access to the detailed information on our rapidly growing product line" said Dave Stewart, Albeo Product Manager. "We have also expanded the LED lighting technology educational sections and added web pages explaining why Albeo products are brighter, more efficient, and longer lasting."
The website provides a comprehensive application section that explains how LED lighting increases energy savings, reduces maintenance, and eliminates recycling while improving the lighting in common types of buildings and spaces. Included are case studies that feature Albeo products and details of the customer benefits.
The on-line catalog features our 2008 and 2009 Next Generation Luminaries (NGL) winning C-Series and S-Series products as well as the six (6) newly launched Surface Mount LED fixtures along with our full line of best-in-value LED lighting fixtures including Talea under cabinet, Atmosphere cove, and Brilliance Display case lighting systems. Visit http://www.albeotech.com/productXXXXX to try it out.
Albeo Technologies, Inc. manufactures high quality, long-lasting LED lighting products for commercial and industrial facilities. Albeo's has won nine independently judged awards for their superior products and technical leadership, including four department of energy (DOE) lighting awards. Albeo products include: Atmosphere™, Brilliance™, and Talea™ LED Lighting solutions for cove, display, and task lighting, SecurityLED™ fixtures for high-abuse applications such as transit, correctional, and institutional facilities, Albeo's award winning C-Series LED light fixtures for general lighting, plus T8LED Conversion Kits and Troffers for office and school lighting applications. Details for the entire product line are available on Albeo's website at http://www.albeotech.com.
###