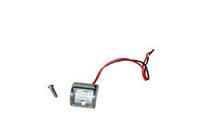 We continue to advance the https://www.magnalight.com/c-140-led-lights.aspx [LED lights] offering on magnalight.com to meet the needs of consumer, commercial and military customers
Kemp, TX (Vocus) October 22, 2009
Larson Electronics added several new LED lights to its range of 12 volt lighting for vehicles, boats and other low voltage equipment. Designed to illuminate small areas less than 5 square feet, these small form factor LED lights are useful for courtesy lighting on boats, instrument panel lighting and other applications where a small bright light is needed to inspect, check or measure different processes.
The LEDSM30 and the LEDSM30MW are smaller than the size of a quarter and surface mount with a single screw. The LEDSM30 LED light is shaped like an eyeball will provide bright white light approximately 5 feet in diameter when mounted at a height of 3 feet.
The LEDSM30MW indirect courtesy LED light serves as a mini wall washer, bathing approximately three to five feet of a wall or floor directly beneath the fixture with bright white light. Both are made from stainless steel and are waterproof, dust proof and US Coast Guard certified ignition proof. These micro LED lights draw 30 milliamps on 12 volts DC.
"We continue to advance the LED lights offering on magnalight.com to meet the needs of consumer, commercial and military customers," said Rob Bresnahan with Larson Electronics.
There is a wide range of vehicles, boats and other industrial equipment that can benefit from small foot print, bright white light output, long life and low current draw provided by led lighting. Our LED lights are integrated into automated task equipment, robotic inspection lines, automated test equipment, instrument panels, portable buildings, military vehicles and a variety of other applications where durable, bright lights are needed with minimal amp draw on 12 and 24 volts systems.
Larson Electronics provides a wide array of LED lighting on magnalight.com. Ranging from explosion proof and intrinsically safe LED lights for tank inspection to explosion proof LED fluorescent lights for paint spray booths, the Magnalight line of LED lights continues to serve the commercial and industrial sector. For general location LED lighting, Larson Electronics continues to grow its range of low voltage LEDLB and LED10W series, high lumen output LED lights. Finally, new products like the LEDSM30 micro LED lights round out the LED lighting with small area task lighting for vehicles, boats and equipment. You can learn more about Larson Electronics at magnalight.com or 1-800-369-6671 (1-214-616-6180 international).
###