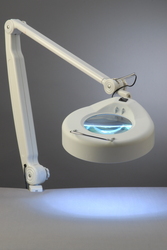 The 60-LED ProVue upholds Aven's quarter-century tradition of reliability and endurance.
Ann Arbor, MI (PRWEB) December 10, 2008
A powerful LED lamp with magnifying lens now is available for added precision, flexibility and comfort in engineering, assembly, laboratory and inspection applications.
The ProVue LED Magnifying Lamp, introduced recently by Aven, Inc. of Ann Arbor, Mich., uses a ring of 60 lights and a 3-diopter (1.75x) glass lens to deliver the highest level of LED task lighting available in an industrial-quality enlargement lamp. The result is a brightly lit, distortion-free field of view that eases eye strain and enhances accuracy for detailed work.
The bright illumination from 60 diodes means less magnification is needed, allowing a bigger field of view and greater working distance under the lens.
ProVue LED, with a five-inch lens and spring-balanced adjustable arm extending 33 inches, provides hands-free support for assembly and inspection of circuit boards or other electronics, small parts checks, medical and research lab analysis, quality control reviews and other meticulous operations.
The sleek, lightweight arm is fully adaptable by height and angle over wide-radius work areas for comfortable use while seated or standing. Features also include vibration resistance, table clamp, concealed springs and tension adjustment knobs at all joints for lamp stability in any position. The engineered housing of white plastic provides a clean, contemporary appearance and easy cleaning.
"Being able to easily position the swiveling lens and light exactly where needed is an important time-saver, especially in high-volume lab and industrial settings," notes Shahpurwala. "ProVue LED adds work pace efficiency, users tell us."
Additional benefits arise from reduced energy use, compared to fluorescent or incandescent lamps, as well as improved color quality and consistency. LEDs are long-lasting and eliminate disposal risks.
The magnifying lamp operates at 115 volts (AC). A weighted base, swing-away 5-diopter (2.25x) lens and 3-diopter auxiliary lens are optional accessories.
"Beyond industrial and lab applications, this combination optical tool is also handy for any professionals or individuals doing precision," says Shahpurwala. The enlarged field of vision can assist repair technicians, artists, jewelers, collectible appraisers, curators, woodworkers, needle workers, fishing fly-tiers, rare book dealers or librarians, collectors of small objects and other hobbyists.
"Adjustability and remounting ease assure task-specific convenience," adds the Michigan executive. "The 60-LED ProVue upholds Aven's quarter-century tradition of reliability and endurance."
Aven, Inc. is a source of high-performance precision tools and optical inspection systems for industrial, scientific, research and education applications. Product lines include alignment tools, video inspection systems, magnifiers, precision knives, pliers and cutters, illumination equipment and other workbench solutions.
An electronics innovator since 1983, Aven is located in a high-tech corridor of Southeast Michigan and is the parent company of SharpVue, which designs and manufactures integrated digital microscope technology.
Visit Aven at Booth 2287 of MD&M West, the Medical Design & Manufacturing Exposition in Anaheim, Calif., from Feb. 10-12, 2009.
For more information, call Aven at (734) 973-0099 or see http://www.aventools.com for a digital catalog and video demonstrations.
###