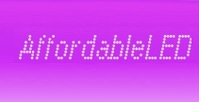 Rowland Heights, CA (PRWEB) October 14, 2008
AffordableLED.com, one of the leading online wholesalers of LED signs, gives absolutely no reason for any company not to own a LED sign. Every business can now have a creatively designed LED sign without spending a fortune as AffordableLED is offering their Open LED signs for as low as $69 this month of October. Moreover, a 20% to 25% price slash on selected LED signs is being offered as well. More price cuts in the coming months will be given to selected LED signs.
Giving more and more reasons for businesses to invest in LED signs, AffordableLED is even offering free ground shipping on all LED sign purchases. Investing in LED sings now proves to be worth the investment.
Heads will surely turn towards any LED sign as LED signs incorporate movements in their designs. It can flash, change colors, and animate in many ways, giving it an instantaneous advantage over neon signs. Moreover, LED signs are proven to save up to 93% in electricity costs, making it a worthwhile investment in the long run.
As a company, AffordableLED.com prides itself in its wide array of highly-creative LED signs offered with a low price guarantee. From the usual coffee and laundry LED signs to ice cream and sushi LED signs, AffordableLED has it all. The company can even customize each and every LED sign to suit the needs of the client.
Be the first to know about the company's up and coming promotions. Simply join the mailing list and be the first to receive invaluable discounts, freebies, and promotions in LED signs.
About AffordableLED.com
Based in Southern California, AffordableLED.com is the leading manufacturer of indoor and outdoor LED signs. All LED signs are of high quality, produced with cutting edge technology. LED signs can be customized to suit the needs of the clients. All LED signs sold have a 1 year warranty and a lower-than-market price guarantee.
###