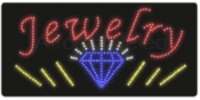 Rowland Heights, CA (PRWEB) August 19, 2009
Leading authority in LED signs AffordableLED.com offers huge discounts on LED signs for August. Until August 31, 2009, AffordableLED.com is offering 40% to 70% discounts on LED signs for the jewelry and apparel industries. Save more than $200 as prices have gone down from $325 to $99 for creatively designed jewelry LED signs. Shoes and handbags LED signs are also being offered for only $99.
AffordabledLED.com is an LED signs company that that makes customer satisfaction its first priority. AffordableLED.com prides itself in guaranteeing establishments of LED signs manufactured with the highest quality, but with lower-than-market prices. In fact, if a customer finds a cheaper manufacturer of LED signs, AffodableLED.com will match the price instantly.
As LED signs have the ability to incorporate graphics and animation into its designs, it immediately catches the attention of passersby. LED signs are now known to be the future of window advertisement. Additionally, LED signs are known to save up to 93% in electricity costs.
With these benefits LED signs bring, alongside with AffordableLED.com's lower-than-market prices and monthly specials, today is now the perfect opportunity to invest in LED signs. AffordableLED.com also offers programmable LED message boards, custom LED signs, LED modules, and power supply for LED signs.
To find out about the company's monthly specials and up and coming promotions, simply join the mailing list and be the first to receive invaluable discounts, freebies, and promotions in LED signs.
About AffordableLED.com:
Based in Southern California, AffordableLED.com is the leading manufacturer of indoor and outdoor LED signs. All LED signs are of high quality, produced with cutting edge technology. LED signs can be customized to suit the needs of the clients. All LED signs sold have a 1-year warranty and a lower-than-market price guarantee. Press release produced by Cybertegic.com - an Internet marketing services agency that specializes in search engine optimized press release marketing (SEO marketing).
###