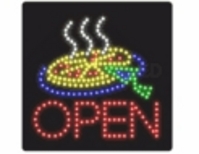 Rowland Heights, CA (Vocus) February 8, 2010
The month of February spells love, and as a token of affection, AffordableLed.com is offering huge savings and discounts on led open signs. AffordableLed.com, a manufacturer of quality led signs and open signs, is taking $20 off of limited led sign orders of $100.00 or more. Choose from a variety of led signs appropriate for many establishments such as convenient stores, sushi restaurants, cafes, and beauty shop signs. Simply put in promo code "Affled-20off" upon check-out to take advantage of this offer. This promotion includes all products except programmable message boards, business hour signs, illuminated menu boards, and current sale items.
Clients interested in participating in AffordableLed.com's Overstock Inventory Blowout Sale will find big savings of up to 40% on all sale items. Additionally, the L7006 Open Led Sign is now available for only $69.00, down from its original price of $79.00. Other led signs available include Chinese Food led signs, Tacos led signs, and Bubble tea led signs, among others. Programmable message boards are also for sale, starting at the low price of $110.00. Programmable led signs come with a 1-year warranty, like all products from AffordableLed.com. These signs are easily programmable via PC or remote control and can store as many as 99 files at a time.
The leading distributor of led open signs is also proud to bring the latest innovations in led signs technology. Working off its recent success in launching programmable message boards and business hour signs, AffordableLed.com is also introducing bright, illuminated menu boards that establishments can use to display important messages and announcements. Starting at the low price of $119.00, illuminated menu boards can be displayed both horizontally and vertically. These marketing tools are attractive and eye-catching, and thanks to illuminated fluorescent lights, they are also perfect for night-time or daytime usage. With a durable aluminium frame casing, establishments are guaranteed that illuminated menu boards from AffordableLed.com are safe, reliable, and long-lasting.
AffordableLed.com understands the need for a cost-effective means of advertising for businesses and establishments. Clients can choose from a wide variety of led open signs, among other products appropriate for the industry they belong to. Sign up with the company's newsletter or visit AffordableLed.com's official blog for the latest news on led open signs promotions and technology.
About AffordableLED.com
Based in Southern California, AffordableLED.com is the leading manufacturer of indoor and outdoor LED signs. All LED signs are high quality and produced with cutting edge technology. LED signs can be customized to suit the needs of the clients. All LED signs sold have a 1 year warranty and a lower-than-market price guarantee. Press release produced by Cybertegic.com - an Internet marketing services agency that specializes in search engine optimized press release marketing (SEO marketing).
# # #