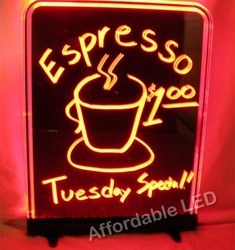 Rowland Heights, CA (Vocus) October 17, 2010
Say hello to October with bright and colorful LED signs from AffordableLED.com. To jumpstart the month, AffordableLED.com launches special offers on LED signs that clients will make it very hard to miss. First off, the online depot of quality LED signs takes away $10 on selected open signs. The #L7001, #L7005, and #L7007 originally priced at $79.00 and $85.00 respectively can now be purchased for $69.00 and $75.00. Open signs have a viewing distance up to 100ft and features multiple animation modes. With genuine acrylic casing, open signs from AffordableLED.com have a low energy cost and are for indoor use only.
Also from AffordableLED.com are huge discounts on scrolling message boards and programmable business hour signs. Starting now at a low price of $99.00, the NS-400R Ultra Red programmable message sign was originally priced at $130.00. Meanwhile, the NS-500UR Ultra Red Programmable message sign is now available for $185.00 from its regular price of $229.00. With as much as $44 in savings, programmable message signs from AffordableLED.com allows customers to proudly display attractive and eye-catching bright red lights while providing a viewing distance of up to 150ft, and it's all at an affordable cost. Accessories included are a remote control, hanging brackets, software, and a PC cable.
Input promo code "SCROLLING-10OFF" to take advantage of a 10% discount on all scrolling signs excluding the NS-400R, NS-500UR, and PHS-100 models. Scrolling LED signs may be used for indoor and outdoor purposes, and are programmable via remote keyboard. For as low as $87.00, clients can purchase programmable LED signs that can store up to 500-700 words. Programmable business hour signs are now offered at a special price of $125.00 from its regular price of $159.00. Capable of programming multiple messages with over 10 animation modes, programmable business hour signs are lightweight and easy to install and operate. Being the latest tool in advertising technology, business owners can use programmable business hour signs to advertise store hours, company information, and promotions, to name a few.
Illuminated LED signs are also on a price reduction with AffordableLED.com's 10% discount. With the promo code "ILLUMINATED-10OFF", clients who will purchase illuminated LED signs can benefit from the attractiveness of these LED sign products. Illuminated LED signs light up in 7 different colors, and, messages can illuminate from one color to another. Clients can choose to hang or make illuminated LED signs stand. Just like all LED sign products from AffordableLED.com, illuminated LED signs come with a 1 year warranty.
AffordableLED.com vouches for the quality of all its LED sign products, offering a low price guarantee and a one year warranty. Wholesalers are welcome and encouraged to partner up with the leading manufacturer of LED signs and open signs. Also available from AffordableLED.com are LED modules, solar lighting products, restaurant décor, and custom LED signs. Visit AffordableLED.com's official blog or sign up with the company's newsletter for the latest promotions from AffordableLED.com.
About AffordableLED.com
Based in Southern California, AffordableLED.com is the leading manufacturer of indoor and outdoor LED signs. All LED signs are high quality and produced with cutting edge technology. LED signs can be customized to suit the needs of the clients. All LED signs sold have a one year warranty and a lower-than-market price guarantee. Press release produced by Cybertegic.com - an Internet marketing agency that specializes in search engine optimized press release marketing (SEO marketing).
###