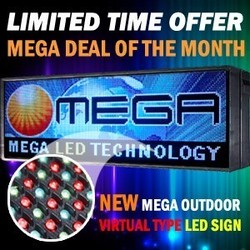 Los Angeles, CA (Vocus) October 20, 2010
Mega LED Technology, a leader in top-of-the-line LED signs, launches its Mega Deal of the Month by taking away as much as 60% on selected LED signs. For a limited time only, the 3228VFC Outdoor Full Color 20mm LED Sign is now available for a special price of $4800 from its original price of $8000. Boasting a 10mm virtual pitch for better quality and a 20mm full color RGB, the 3228VFC Outdoor Full Color 20mm LED Sign also features a housing module type for simple repairs and an S3 front serviceable sign for easy maintenance. Clients can also choose from hundreds of effects for different advertising strategies.
The 4025VTC Outdoor Tri Color 25mm LED Sign, on the other hand, can now be purchased for only $3000, a whopping $1500 off from its original price. The 2526VFC Outdoor Full Color 16mm LED Sign was originally priced at $5400, and is now available for only $3600. Both the 2526VTC Outdoor Tri Color 16mm LED Sign and 4026VR2 Outdoor Red Color 25mm LED Sign is now at an affordable price of $3000, $1800 off of its original price. Similar to the 3228VFC Outdoor Full Color 20mm LED Sign, these LED signs on the Mega Deal of the Month also boast multiple animation modes, low maintenance elements, and time and date added features.
From Mega LED Technology comes LED signs that are manufactured only from the highest quality parts and components imported from Korea. Additionally, LED signs are tested and assembled at Mega LED Technology's own factory so clients can be sure that everything works perfectly before shipment. Mega LED Technology offers monochrome, full color, and tri color LED message displays, as well as LED signs for schools, restaurants, gas stations, and the government. To keep up with the latest promotions and updates from Mega LED Technology, sign up with the company's newsletter or come visit Mega LED Technology's official blog.
About Mega LED Technology
Mega LED Technology is a LED Programmable Sign manufacturer in Los Angeles, CA. Mega LED Technology strives to provide the best quality LED signs and customer services nationwide. The LED display sign company is a leading expert in LED visual solutions - manufacturing LED sign displays that are guaranteed to be the future in new media display. Mega LED Technology offers indoor LED sign displays, outdoor LED sign displays, front serviceable LEDs, and gas prices LED signs. All products come with a three year limited warranty. Press release produced by Cybertegic, Inc. - an Internet marketing services agency that specializes in search engine optimized press release marketing (SEO marketing).
###