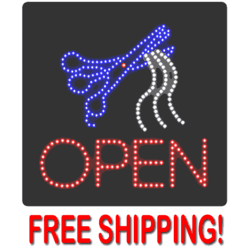 Rowland Heights, CA (Vocus/PRWEB) February 07, 2011
AffordableLED.com, a manufacturer of wholesale and retail LED signs, continues to help businesses by providing affordable marketing tools. This January, receive free shipping by purchasing any "OPEN" LED sign from AffordableLED.com. Choose from a variety of designs and brilliant colors, including red, amber, and tri-colored "OPEN" signsAffordableLED.com "OPEN" signs are flashy and programmed with multiple animation modes to help attract customers and increase in-store traffic. AffordableLED.com's "OPEN" LED signs also provide a viewing distance of up to 100 feet. The "OPEN" LED signs are also light-weight, easy to install, and energy efficient, ideal for businesses that stay open into the late night hours.
This month, AffordableLED.com is also offering its best prices of the year on indoor/outdoor scrolling LED signs throughout the online store. AffordableLED.com's scrolling signs are a great and easy way to display multiple messages, such as store hours, specials, contact information, and more. Choose from a variety of LED sign sizes and bright eye-catching colors. The NS-500 RG2 tri-color LED sign stores up to 99 programmable files with 500-700 word input and may be viewed up to 150 feet.
Businesses looking for a flashier LED sign with more features should consider the SR-2416 LED red indoor/outdoor scrolling sign, which features programmable timed messages, a wireless connection, multiple fonts, and various playful animations. The SR-2416 LED scrolling sign also features a sunshade grill blocker, the ability to change brightness level, and is energy efficient, providing businesses with the best sign visibility, rain or shine. For a full list of indoor/outdoor scrolling signs on sale this month, please visit AffordableLED.com. Sale Ends February 28, 2011.
AffordableLED.com provides a wide selection of LED signs and products, including programmable LED signs, beauty shop signs, LED candles, solar lighting products, and restaurant décor. In addition, AffordableLED.com also provides custom LED signs for customers interested in customized advertising tools. AffordableLED.com LED signs are encased in sturdy, light-weight material, such as genuine acrylic casing or aluminum, for a professional finish. All products from AffordableLED.com are energy efficient, safe to touch and operate, and come with a one year warranty. Join the company's mailing list or visit AffordableLED.com's official blog for the latest industry news in LED technology.
About AffordableLED.com
Based in Southern California, AffordableLED.com is the leading manufacturer of indoor and outdoor LED signs. All LED signs are high quality and produced with cutting edge technology. LED signs can be customized to suit the needs of clients. All LED signs sold have a one year warranty and a lower-than-market price guarantee. Press release produced by Cybertegic.com- an Internet marketing agency that specializes in search engine optimized press release marketing (SEO marketing).
# # #