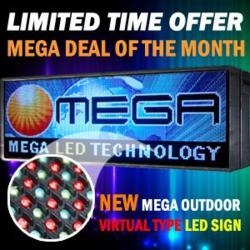 Los Angeles, CA (Vocus/PRWEB) March 11, 2011
Bringing savings as huge as $1,280.00 is LED sign manufacturer and wholesaler Mega LED Technology. MegaSignInc.com's Mega Special Deals is offering LED signs starting at a low price of $5,150.00 for a limited time only. Outdoor Tricolor 25MM LED Sign (4025VTC) was originally priced at $6,250 but can now be purchased for only $5150.00. The 4025VTC features individual sunshades to maximize clarity and visibility while also boasting of 2R 1G that gives more depth and color, as well as enhanced image and text.
Next up are the Tricolor and Red Color Outdoor LED signs, both available for $5,250.00 from its original price of $6,410.00. Both LED signs have front serviceable LED signs for easy maintenance, allowing owners to save up to 90% in labor compared to standard access displays. Additionally, both the Tricolor 16MM (2526VTC) and Red Color 25MM (4026VR2) Outdoor LED Signs has additional features such as date and time options. The Red Color 25MM Outdoor LED sign also boasts of a hundred effects to choose from as well as the ability to display 1-4 lines of texts.
From its original price of $6,770.00, the 2526VFC Outdoor Full Color 16MM LED Sign is now available for only $5,610.00. The 2526VFC Outdoor LED Sign is lit up of 12,288 LEDs with a pixel matrix of 96x32 and dimension of 5' 3" x 1' 11" x 6". Finally, the 3228VFC Outdoor Full Color 20MM LED Sign was first priced at $8,530.00 but can now be purchased for $7,250.00. The 3228VFC boasts of a 10MM virtual pitch for better picture quality and composed of 16,384 LEDs and 4,096 pixels. It is also encased in a simple housing module type for easy repair if needed.
Mega LED Technology's roster of digital signage solutions includes LED panels, LED display boards, programmable LED signs, and electronic message boards. MegaSignInc.com also manufactures customizable LED displays for churches, gas stations, restaurants, stores, and other establishments. To receive regular updates, join the company's mailing list for exclusive deals or visit Mega LED's official blog for the latest LED technology industry news.
About Mega LED Technology
Mega LED Technology is a LED Programmable Sign manufacturer in Los Angeles, CA. Mega LED Technology strives to provide the best quality LED signs and customer services nationwide. The LED display sign company is a leading expert in LED visual solutions - manufacturing LED sign displays that are guaranteed to be the future in new media display. Mega LED Technology offers indoor LED sign displays, outdoor LED sign displays, front serviceable LEDs, and gas prices LED signs. All products come with a three year limited warranty. Press release produced by Cybertegic, Inc.- an Internet marketing services agency that specializes in search engine optimized press release marketing (SEO marketing).
# # #