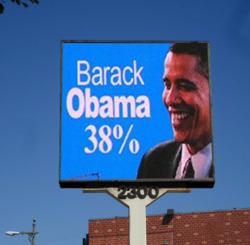 Mega LED's wide arrays of visual solutions include commercial boards, community boards, and price boards.
Los Angeles, CA (PRWEB) May 10, 2011
The ISA International Sign Expo is an event visual communications professionals look forward to each year to discuss and celebrate the sign industry. At the ISA International Sign Expo, LED sign and other digital imaging products business owners have the opportunity to showcase a wide array of sign industry products while also having the chance to share educational programs and networking opportunities with each other. As a proud distributor of LED signs, Mega LED Technology proudly participated in this year's ISA International Sign Expo held at Mandalay Bay Convention Center, Las Vegas, Nevada last April 28-30, 2011. The online manufacturer was stationed at Booth #1641 and offered discounts on selected LED signs that were displayed during the event.
Mega LED Technology, an online manufacturer of LED signs, prides itself in providing a vast collection of digital signage for various businesses and establishments without burning a hole in clients' pockets. Assembled, tested, and shipped from Mega LED Technology's own factory, customers are assured of the high quality from which LED sign displays are manufactured. Backed by knowledgeable customer service representatives, all interested clients will be assisted from the setup to advanced LED sign programming. A final testament to the quality of LED sign products from Mega LED Technology is its membership on the Better Business Bureau, committing to uphold the highest BBB accreditation standards.
Mega LED's wide arrays of visual solutions include commercial boards, community boards, and price boards. Clients are not limited to business establishments as Mega LED also offers LED signs for government/military institutions as well as places of worship. Additionally, customers can also choose to have LED signs customized. Mega LED Technology carries monochrome, tri-color, and full-color LED message displays in various sizes, ranging from small to large, ensuring that products will fit any client's needs, falling within the budget.
To receive regular updates, join the company's mailing list for exclusive deals or visit Mega LED's official blog for the latest LED technology industry news.
About Mega LED Technology
Mega LED Technology is a LED Programmable Sign manufacturer in Los Angeles, CA. Mega LED Technology strives to provide the best quality LED signs and customer services nationwide. The LED display sign company is a leading expert in LED visual solutions - manufacturing LED sign displays that are guaranteed to be the future in new media display. Mega LED Technology offers indoor LED sign displays, outdoor LED sign displays, front serviceable LEDs, and gas prices LED signs. All products come with a three year limited warranty. Press release produced by Cybertegic, Inc. - an Internet marketing services agency that specializes in search engine optimized press release marketing (SEO marketing).
###