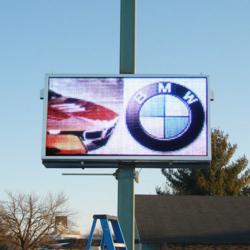 For exclusive deals, check out Mega LED Technology's Mega Deal Specials which gives clients the chance to save as much as 20% on selected LED sign products.
Los Angeles, CA (PRWEB) July 04, 2011
When it comes to digital signage such as LED signs, wholesale dealer MegaSignInc.com is the best online depot to go to. Manufactured only with the latest technology, MegaSignInc.com carries the full line of both indoor and outdoor LED signs for wholesalers and retailers. Special products are also available as Mega LED Technology also offers gas price, time, and temperature LED signs, as well as community boards for government, military, school institutions and places of worship.
As testament to the latest technology produced by Mega LED Technology, outdoor LED signs for example, feature virtual type modules which guarantee clients of the highest quality possible for billboards and signs displayed at an establishment's outside premises. Window LED signs, on the other hand, have the true type modules that give messages a clean and crisp look, making it easier for messages to be visible for passersby. Finally, indoor LED signs feature the SMD type module that gives an amazing pitch and fantastic resolution for the best quality. All LED sign products are available in full color, tri color, and single color varieties.
For exclusive deals, check out Mega LED Technology's Mega Deal Specials which gives clients the chance to save as much as 20% on selected LED sign products. Mega Deals are offered weekly and LED signs offered are manufactured only with the highest quality parts. Dealers and power dealers also have the option of bundling multiple LED signs to receive a special discount. Simply purchase 5 LED signs from the selected products offered in the Bundle Deals to avail of this promotion for the chance to be able to save yet again on an already discounted item.
MegaSignInc.com strives to put each customer's needs first, promoting quality LED programmable signs and visual solutions that will help boost a customer's business. From commercial digital billboards to community service LED signs, from special price boards to window digital signage, Mega LED Technology carries it all.
To receive regular updates, join the company's mailing list for exclusive deals or visit Mega LED's official blog for the latest LED technology industry news.
About Mega LED Technology
Mega LED Technology is a LED Programmable Sign manufacturer in Los Angeles, CA. Mega LED Technology strives to provide the best quality LED signs and customer services nationwide. The LED display sign company is a leading expert in LED visual solutions - manufacturing LED sign displays that are guaranteed to be the future in new media display. Mega LED Technology offers indoor LED sign displays, outdoor LED sign displays, front serviceable LEDs, and gas price LED signs. All products come with a three year limited warranty. Press release produced by Cybertegic, Inc. - an Internet marketing services agency that specializes in search engine optimized press release marketing (SEO marketing).
# # #