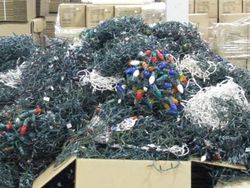 So far this year we have recycled in excess of 3,000 pounds of lights and have another lot of approximately 2,000 pounds waiting to be recycled
Jackson, MI (Vocus) February 6, 2009
HolidayLEDs.com, an e-commerce company specializing in LED Christmas lights and decorative lighting is wrapping up its 2nd annual Christmas light recycling program. Program participants could send their old incandescent string lights to HolidayLEDs.com for recycling and receive a coupon for 15% off energy efficient LED Christmas lights.
"We started this program last year in response to several customer inquiries about what they could do with their old incandescent Christmas lights if they switched to LED," said Philip C. Curtis, President of HolidayLEDs.com. The 2008 program had over 5,000 participants and produced more than 3,000 pounds of lights for recycling. "We really had no idea what to expect when we started this program -- we certainly didn't expect to get 3,000 pounds of lights in the first year," Curtis added.
HolidayLEDs.com reports that the 2008-2009 participation level was even greater. "So far this year we have recycled in excess of 3,000 pounds of lights and have another lot of approximately 2,000 pounds waiting to be recycled," Curtis explained. The company estimates that it will recycle more than 5500 pounds of lights before this year's program ends at the end of this month.
Curtis stated that HolidayLEDs.com will continue to offer the Christmas light recycling program indefinitely and the company is working to establish additional collection points around the United States in order to reduce the amount of shipping that is required.
For more information about HolidayLEDs.com recycling program please visit: http://www.holidayleds.com/holidayledscom_christmas_light_recycling_program
###