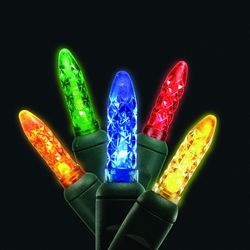 We originally made this offer in the last week of August but it was never accepted
(Vocus) October 5, 2007
HolidayLEDs.com, a new ecommerce company located in Michigan, is renewing its offer to replace the inefficient incandescent lights on the State of Michigan Christmas with LED Christmas lights. "We originally made this offer in the last week of August but it was never accepted," said Michael J. O'Connor of HolidayLEDs.com. On October 1st, Michigan's Governor, Jennifer M. Granholm, proclaimed the day "ENERGY STAR Change a Light Day." This announcement coincided with the kick-off of the national Change a Light, Change a World campaign sponsored by the Environmental Protection Agency and the U.S. Department of Energy.
"This is a great campaign. I don't think many people realized how much energy the new energy efficient lighting technologies can save," said O'Connor. A recent study by the EPA determined that a shift of only 20% of U.S. households to energy-efficient LED Christmas lights would save enough energy in a 45 day period to power 200 houses for an entire year. HolidayLEDs offer to the State would conserve over 35,000 KWh of electricity each year and save the state more than $5,000 each year.
In a recent column in the Lansing State Journal , Steve Benkovsky, director of Legislative Council Facilities, indicated that the State would reconsider the matter and might make a change this year. "Now that Governor Granholm has wrapped up the State's budget crisis and is focused on other policy matters, we wanted to let the State know our offer is still open," O'Connor added.
For more information about this release please contact:
Philip C. Curtis
517.745.1217
phil @ holidayleds.com
http://www.holidayleds.com
# # #