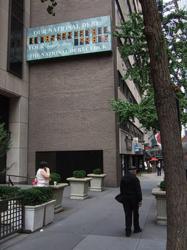 Libertyville, IL (PRWEB) November 17, 2012
Now that the 2012 election is over, Congress moves into the lame duck session. Normally, very little in the way of productivity is seen during this session, but this time there is an enormous issue on the table, with major consequences for virtually the entire country. Congress must collectively produce legislation that will fulfill the prescribed budgetary requirements for debt reduction, or face the mandatory cuts in spending along with the expiration of the "Bush" tax cuts for all. These mandatory spending cuts and the tax cut expiration are now being widely referred to as the "Fiscal Cliff", which will be reached at midnight on December 31, 2012.
LDS sources have suggested that an LED countdown clock might be used to display the time remaining until the Fiscal Cliff Deadline of midnight on December 31, 2012. It is believed that a visible display of the time remaining will help to spur reasonable discussion and compromise between the members of Congress, and subsequently help to avoid the consequences of inaction. Many feel that the impact of such consequences may lead to the slowing or even reversal of the already slow but steady recovery from the near economic collapse in 2008. Given the relatively low cost of an LED countdown clock, and the gravity of the situation, it seems that a visual aid of this type might be a cost effective way to help Congress realize that the time to act is now. Many of us are familiar with the highly publicized billboard-sized National Debt Clock located on Sixth Avenue in Manhattan, New York, which has heightened awareness of our ongoing debt crisis. Perhaps the implementation of a visual reminder displaying the time remaining to our members of Congress will drive home the point that failure to act is not an option.