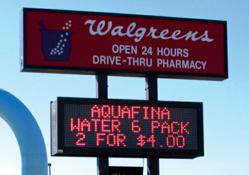 Your advertising is always highly noticeable, and on target with whatever you are promoting at any given time.
Libertyville, IL (PRWEB) December 31, 2012
LED Display Signs (LDS) will be unveiling a new outdoor programmable LED sign leasing program after the start of the 2013 New Year. Programmable electronic outdoor LED message centers or signs are a very significant capital expenditure that sometimes exceeds the budget of smaller businesses. LDS has combined with Vantage Rentals to offer 5 models of varying sizes for 12 month leasing, with an option to purchase at the end of the lease term.
The LDS sources stated that under the new leasing program, sign installation, programming and maintenance are included. These included services would eliminates two headaches LED sign purchasers would normally face; along with the leasing rates reducing the initial capital investment normally required for outdoor sign purchases.
Advertising and marketing is critical to the success of any business. The best products and services never sell unless the prospective customer knows where to find them. Outdoor programmable LED signs are the perfect marketing tool for most small businesses. The versatility of the "changeable" message files can keep prospective customers aware of the specials and seasonal offers simply by posting the advertisement on a programmable LED message display. There is no better ROI on sign advertising then that which is possible with a programmable LED display. Advertisements are always highly noticeable and on target with whatever promotion that might be currently offered. No other type of sign can perform at this level.
Now that LDS is offering leasing terms for outdoor LED signs, small business owners that previously couldn't consider obtaining a programmable outdoor LED sign, can now spread the cost out over time, and also avoid the usual hassles of installation, programming and maintenance. In addition, in the event that a sign is not providing the ROI that was expected, the leasing contract is automatically terminated and the sign is removed with no further obligation at the end of the term (standard 12 month lease). Of course, if the sign is producing the ROI that was expected, then the lease can continue on a month to month basis indefinitely, or the sign can be purchased through the "lease to buy terms" of the arrangement. The leasing customer has all the options, which is always a plus in business. Visit http://www.led-display-signs.com for more information and details of how the program will work, and exactly when the leasing program will commence.